Watch These Creative Perak Students Transform Cardboard Box into Bed-Side Table & Pantry
University and college students have always been famed for their creativity under financial pressure. From using irons to boil water to using shopping carts as a barbecue grill, they have always found ways to improvise and make use of the most unexpected items.
A student in Perak who goes by the handle Muaz (@MuazRadzuan) has taken to Twitter to showcase 2 videos of how his friend Zainuddin repurposed a cardboard box creatively as they felt that it would be wasteful to throw it away. His posting has since garnered over 14,500 shares.
The first video he took shows the 'before' process carried out by Zainuddin, who can be seen cutting what looks like a square into the middle of a cardboard box that originally came with an air cooler.
nak buang kotak ni rasa membazir … pic.twitter.com/2qPx7GGf4s

— ℳ uaz (@MuazRadzuan_) June 17, 2019
"Okay, today we're going to DIY (do-it-yourself), by brother Zainuddin," Muaz can be heard saying as another friend in the background can be heard poking fun at Zainuddin.
The second video on the other hand showcases the completed result of Zainuddin's efforts.
so better kita manfaatkan pic.twitter.com/IrKFvh0iju

— ℳ uaz (@MuazRadzuan_) June 17, 2019
In the video, the cardboard box can be seen placed by a bed, acting as not only a bed-side table but also a pantry! Upon opening the little door, a stock of food items can be seen stored inside, but what makes it even cooler is the fact that they also installed a motion-sensor lighting system!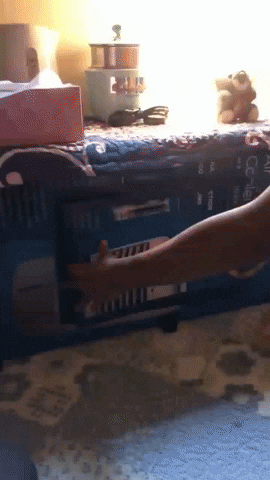 Muaz referred to benefiting as much as possible from what we already have, compared to just throwing things away. Go green guys!
Understandably, netizens were amased with his creation, especially since it promotes zero wastage! Something we all need to practice as our Earth is slowly dying from rubbish.
Since then, others have taken to Muaz's Twitter thread to showcase their own versions of useful items made out of cardboard boxes that they've created themselves, such as shoe racks and television stands.
Many other netizens praised their creativity and innovation in minimising wastage and saving the environment.
Especially when it comes to saving the environment: improvise, adapt and overcome, guys. We can all learn a thing or two from these people!
Also read: SS15's Bubble Tea Street Is Causing Plastic Waste Problems, And Netizens Have The Solution