Watch: Lorry With Cargo Container In Penang Drives Over Curb Into Opposite Lane
A large lorry carrying a cargo container was seen driving over a curb and entering into the opposite lane just before a traffic light stop at Jalan Chain Ferry, Butterworth, Penang. The incident happened on 16 October 2020.
A video posted on Info Roadblock JPJ/POLIS shows the large vehicle unsteadily moving over the curb as the cargo container can be seen precariously tilting from side to side.
It is uncertain why the driver of the lorry had committed such an act as the road evidently did not have any other vehicles blocking his way. Nevertheless, what the driver did was wrong and posed danger to other vehicles on the road.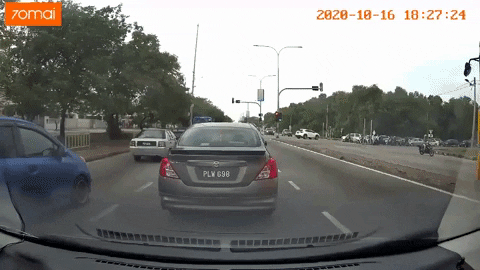 According to Section 43(1) of the Road Transport Act 1987, "a person who drives a motor vehicle on a road without due care and attention or without reasonable consideration for another persons using the road" is guilty of an offence.
Upon conviction, the accused can be punished with a fine of RM4,000 up to RM10,000 and shall also be liable to imprisonment for a term not exceeding 12 months.
Here's the full video:
This kind of behaviour on the road is unacceptable and we hope the authorities will take action against motorists like this.
Also read: Watch: Car On SILK Highway Suddenly Swerves From Right Lane & Knocks Motorcyclist Down