#Throwback: Inspiring M'sians Who've Proven That It Takes Just a Bit of Guts to Spread Love & Make a Difference
Having the courage to show someone you love or care for them definitely takes a certain level of guts–no matter how weird, easy, or scary the situation is.
Well, with Valentine's Day coming up, we want to take a look back and celebrate Malaysians who have in fact inspired us to be a bit gutsier in order to spread the love and make a difference in society! FYI, these aren't famous people or individuals with PhD's. These are everyday Malaysians like you and me who simply had the guts to show the people around them a bit of love and kindness. Without further ado, here's a compilation of past stories of individuals who've proven that a bit of guts can go a long way when it comes to spreading the love, see if you remember any of them:
1. The bus driver who picked up a motorcyclist… together with his motorcycle… during a heavy downpour
Nobody likes driving in the rain. It's harder to see and you'll probably get stuck in bumper-to-bumper traffic.
Unfortunately for one motorcyclist, not only was he caught in the rain, his motorcycle had also broken down, as explained by Twitter user @fiezapinky.
Pinky continued to explain that she was on the Rapid KL bus heading to Putrajaya when her bus driver suddenly stopped by the roadside where a motorcyclist was seen trying to fix his bike. 
The driver alighted from the bus and spoke to the motorcyclist for a short while before asking him to hop on his bus together with his motorcycle.
The driver then brought the motorcyclist–who was already soaking wet–to a nearby repair shop and dropped him off. He didn't ask the motorcyclist for any form of payment and instead told the motorcyclist "I just really wanted to help you". Omg, my heart.
Evidently, this bus driver truly had the guts to break the rules in order to show a stranger just a bit of much-needed kindness.
2. A 24-year-old gave up her engineering dream to take over her late father's burger stall & look after her family
Based on yet another tweet that recently went viral, a 24-year-old by the name of Nurul A'in Azman–who recently graduated with a Diploma in Civil Engineering from Port Dickson Polytechnic–made the difficult decision of giving up her engineering dream to continue her father's legacy.
A'in shared with MStar that her father had fallen sick just as she was finishing her studies so she would often help him at his burger stall. Unfortunately, her father passed away soon after and she has since taken over the stall.
Although she could have decided to continue with Engineering–similar to how her other siblings all hold stable jobs–she decided against it as she wanted to look after her sick mother and autistic sister.
Because of this, A'in also struggles to meet up with friends because that would mean closing down her store. However, regardless of all this, she is still grateful for this stall left behind by her father.
A'in's stall opens daily from 5.30pm to 12.30am in front of a 7Eleven store in Bukit Antarabangsa and she sells 15 different types of burgers including lamb, beef, camel, Roti John, and oblong. 
It goes without saying that A'in definitely showcased the true meaning of having guts by stepping up and taking over her father's stall so she can look after her family.
3. This waiter who danced his heart out to a Blackpink song in front of a restaurant full of customers
Talk about having SERIOUS guts!!! Some of us don't even dare dance in front of our siblings.
Known as Low Shao Wei, this young waiter who works at a popular restaurant in KL, busted some serious moves during his shift and we're honestly in awe. That's not even the best part! Low danced along to Kill This Love by popular K-pop girl group Blackpink!!! And he did it all by himself!
Even though he was just one person, it's safe to say that he completely owned the dance floor and he definitely took the internet by storm. Just check out his moves:
The video has since garnered over 370k views and for good reason. Many netizens have also commented on Low's "sharp moves" and how he completely "slayed" it. Other netizens highlighted how they "aspire to be like him". Us too fam, us too. 
We don't know about you, but we definitely felt the love Low has for his customers through his gutsy dance moves and positive vibes. It definitely put a smile on our faces as well as the faces of his patrons. Kudos to him! We're pretty sure he'll go places with his confidence and impeccable dance skills.
Well, that's it for this list but these stories definitely gave us goosebumps. Turns out, all you really need is a bit of guts to spread the love and who knows? You might just end up becoming an internet sensation too!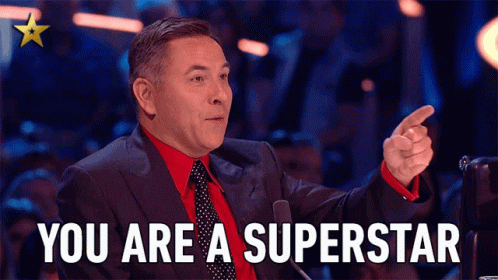 With that said, CALPIS wants to cultivate a new Valentine's culture to encourage Malaysians to spread love to everyone around them. In order to do that, CALPIS has actually joined forces with 50Gram to create a gorgeous limited edition bouquet known as #CALPISSakura to gift to A'in, the burger stall owner, as well as, Low, the dancing waiter to thank them for their guts and incredible acts of courage in showing love to others. So sweeeeet! Check out how the surprise went down by watching the video below:
How sweet was that?!
This unique bouquet will also make a great alternative to your boring box of Valentine's chocolates and teddy bears. Well, if you too would like to step out of the norm and gift your loved ones with the limited-edition #CALPISSakura bouquet made up of beautiful, fresh flowers and a bottle of CALPIS Cherry Blossom for V-Day, you can! I mean, just look how pretty this bouquet is:
The bottle of CALPIS Cherry Blossom also adds a very nice touch to the gift since nothing shouts "I love you" better than a bottle of cultured milk to say "I care for your overall gut health too". Time to step up your love game, boys! 
Hurry though! V-Day is fast approaching and this unique bouquet is only available for the month of February so you better make those orders asap! Check out 50Gram's website for more info and show your loved ones the true meaning of #iloveyourguts this Valentine's.
Happy Valentine's Day, everyone! XOXO