M'sian Caught on Camera Kicking & Abusing Dog, Netizens Call For Justice To Be Served
It is understandable to not have much to do and feel bored during the Movement Control Order (MCO), but that doesn't mean you can use this time to abuse your helpless pets. Under no circumstances should a person EVER do that!
One man in Banting, Selangor was caught on camera beating and kicking what looks like a small Golden Retriever on the front porch of his home. Luckily, the dog has been rescued.
The video, showcased by the Malaysia Animal Association's Facebook page, called for an investigation on the dog's owner.
Video Insiden pemilik membuli dan mendera dengan cara memukul, menyepak dan mencekik anjing peliharaan miliknya di Jenjarom, Banting Selangor membangkit kemarahan ramai warga pencinta haiwan seluruh negara.Walau pun telah dimaklumkan bahawa anjing sudah diselamatkan dan berada dalam penjagaan seseorang. Namun ratusan whatsApp diterima Animal Malaysia yang mahu keadilan secara perundangan dibuat untuk sang Anjing.Jika benar mahu tegakkan undang-undang untuk keadilan anjing dan mahu pelaku diheret ke penjara. Perakam video penderaan anjing yang menimbulkan kemarahan rakyat pencinta haiwan tidak boleh diam diri. Perakam adalah saksi utama dan perlu tampil buat laporan polis. Seterusnya membolehkan pihak Jabatan Perkhidmatan Veterinar Malaysia (DVS) jalankan penguatkuasaan, siasatan dan pendakwaan.Perakam yang mengupload video penderaan anjing boleh dapatkan khidmat nasihat Animal Malaysia dengan Whatsapp 01120901097 jika ketakutan atau tidak faham prosedur melakukan laporan kepada pihak berkuasa. Video sudah lama keluar. Pelaku masih bebas. Anjing diselamatkan. Undang-undang masih tidak dapat dijalankan. Dimanakah keadilan untuk binatang?Setiap kita adalah pemimpin dan khalifah. Mari makmurkan dunia dengan berbaik kepada makhluk bernama haiwan.#dvs #perhilitan #pbt #animals #stray #wildlife #wild #wildanimals #dogs #cats #strayanimals #saveouranimals #cruelty #animalcruelty #saveourstray #feeder #animalfeeder #law #justice #voice #advocacy #animallaw #animaladvocacy #animalvoice #animaljustice #malaysiaanimals #animalmalaysia #malaysiaanimalassociation#aktakebajikanhaiwan2015 #teamstrayfeeder

Posted by Persatuan Haiwan Malaysia – Malaysia Animal Association on Saturday, April 11, 2020
They wrote, "The video showcasing an owner bullying and abusing by beating, kicking and choking his pet dog in Jenjarom, Banting has angered animal loving citizens all over the country. Even though the dog has been rescued and is currently in the care of someone else, we've received hundreds of WhatsApps calling for legal justice for the poor dog."
In the beginning of the video, the pup can be seen running away from the now ex-owner as he approached. The poor doggie can be heard whining in pain in the video as the man held it by its muzzle and appeared to be hurting it.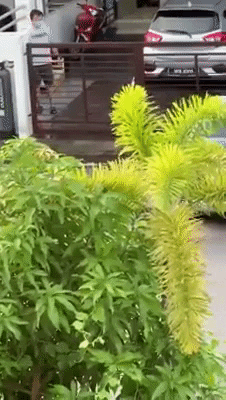 At one point when the man finally let go of the dog, the little pup let out a little bark on fear.
"The video has been out for a while, but the perpetrator is still free. The dog is rescued, but the law has yet to be carried out. Where is the justice for the animals?" Animal Association Malaysia added.
The little pup may finally be free from the man's abuse, but what's stopping the man from just getting another dog to treat as a punching bag? We genuinely hope that the authorities look into ensuring that this man doesn't hurt another animal again.
What do you think about this? Let us know in the comment section. 
Also read: Handsome Doggo Flashes His Goofiest Smile In Hopes Of Getting Adopted From Shelter