"I'll Take a Life For a Life!" Pasir Gudang Father Yells After Wife Told to Take Fainted Daughter to Hospital Herself
It seems another parent can no longer handle the Pasir Gudang chemical poisoning issue (and they shouldn't have to!) after his daughter fell victim to the incident, though the additional reason as to why he was so angry will shock you to the core.
Apparently, the girl's mother was called to the school when their daughter had passed out, but when she reached, there was not only no medical assistance present, but there was none on its way. The mother was told to take her unconscious, shaking daughter to the Pasir Gudang health center herself.
The angry father decided to express his concerns at what looked like either a governmental gathering or a school board meeting with the parents of the students effected by the chemical poisoning. A Facebook video of him has since taken the internet by storm, as posted by Mahadi Bin Mahbol.
Mahadi captioned the posting with, "This brother is harsh. Let it go viral."
The video begins with the father explaining what had happened when his wife was called to the school after their daughter had passed out.
"When my wife arrived, the school representatives told my wife to send our daughter to the Pasir Gudang health center herself. You should understand a mother's perspective when she sees her daughter passed out and shivering, it's to a point where when she's driving, she's shaking," said the father.
He had informed his wife to take their child to the Penawar private hospital instead. By the time he had gotten to the emergency room, he held his daughter's limp body in his arms and had started imagining the worst.
"If my child died right there and then, I'll take a life for a life!"
Luckily, the good doctors at the hospital managed to save her. When the doctor asked what he should do with his daughter though, the father had told him to discharge her as they did not have insurance.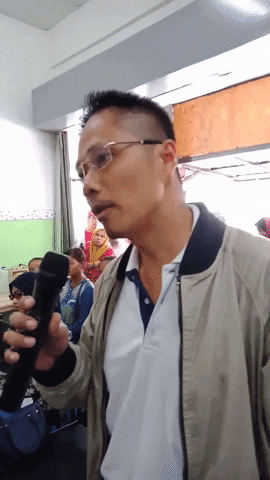 After that, he immediately transferred his daughter to another school.
"So then, my problem was over. So here's the thing, I don't even care about the pollution, but when you have a victim in your hands, please cooperate and show your commitment. When I asked the principal why this happened, he said it's all instructions from the higher-ups," he added.
"I want to know if you are doing your work, and I want to see efficiency."
He then addressed the crowd, who seemed to be made up of parents to the victims of the chemical pollution incident.
"Please fight back! Don't be scared. They are all humans," referring to the 'higher-ups' who have apparently just let the matter slide.
"It's odd considering Johor has a Chief Minister. But where is he? Isn't he a doctor? Considering a situation like this, he should come down here and utilise his skills. Not keep it in a drawer!"
The father ended his rant with a final request.
"What I want is to meet the Chief Minister of Johor, face to face. I want to represent the victims of Pasir Gudang to let him know how we feel. So, I hope if this video goes viral, I would like him to come meet up with me. This excuse of bird droppings is stupid!"
"If he doesn't meet up with me, who knows one day, I'll replace him. I will be the Chief Minister."
Strong words from a concerned father, who thought he was close to losing his child to the chemical pollution incident which is now being blamed on pigeon droppings.
Sure, the words he used were harsh, but they rang true.
Mahadi's posting has since garnered over 12,000 shares and counting.
Chief Minister of Johor, Dr. Sahruddin Jamal, your move. 
Also read: "I Spent Thousands on My Child's Treatment," Angry Father Tells Yeo Bee Yin & Pasir Gudang Townhall Participants