Ever Wondered Why Our Barbershops Have 'Barber Poles'? Here's Its Shocking History
Ever since I was a kid, barbershops meant two things to me:
That super satisfying cooling ointment they put on the back of your neck after a shave. *shivers in delight*
And those swirling barber poles at every storefront. Something I always wondered what it symbolised. 
You know the ones: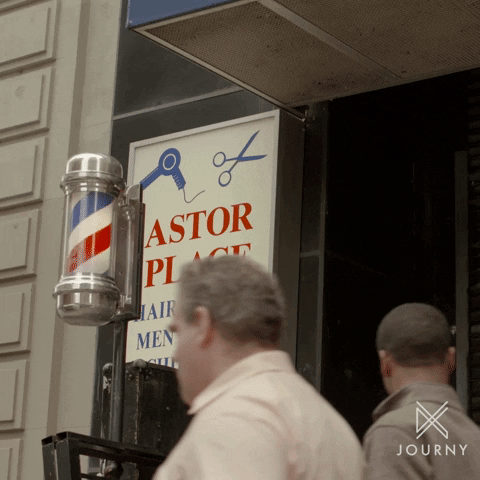 I remember curiously asking my father why every barbershop had one but the only answer I got was that it's a form of advertising. BuT it HaS to HaVE a DeePER MeAnInG, RigHT? 
It wasn't until my mother and I was recently parked outside a barbershop in Subang Jaya that I was reminded of this long unanswered question. Also like my father, she too didn't have any answers.
Unsatisfied, I decided to take matters into my own hands and consulted an expert with encyclopedic knowledge of human life and beyond. As hinted by the headline of this article, what I found was far too interesting not to share.
So, here's what Mr Google had to say:
Barbers used to perform surgeries and dental procedures in Medieval times
Believe it or not, barbers not only used to groom and shave customers for a living but also performed a range of medical and dental procedures on their customers.
This included setting bones, extracting teeth, leeching, and bloodletting which basically involved cutting a vein open and draining blood for treatment purposes.
WOAH WAIT, WHAT NOW?
Back then, bloodletting was a popular treatment for a wide range of medical conditions from something as simple as a sore throat to life-threatening diseases.
In the early days, only monks and priests (aside from physicians and surgeons) were the ones tasked with performing medical procedures and care for the sick as they were one of the most learned individuals during the time.
It was also common for barbers to assist monks and priests in bloodletting procedures due to their skill in sharp instruments.
In fact, bloodletting was so popular that authors even cite how The Talmud (The Jewish Bible) and early Islamic medical authors recommended specific days of the week or phases of the moon which are most suitable for bloodletting. There were even books which indicated which body parts needed to be bled to cure specific diseases wei!
All this changed when in 1163, Pope Alexander III prohibited clergymen from performing the procedure while surgeons deemed the task too menial for them to perform. This then resulted in barbers taking up the task and adding the procedure — among other medical and dental procedures — to their repertoire. They later became known as barber-surgeons.
The pole is meant to signify bloodletting
The history of the iconic barber pole can be traced back to medieval times when barbers used to display bowls of their client's blood behind their windows as a way of advertising their bloodletting services. However, a law was soon passed banning the practice thus giving rise to the poles that are ubiquitous in barbershops today.
According to History.com:
The red in the pole represents blood
White represents the bandages used to stop the bleeding
Blue represents the vein that is cut during the procedure
As a whole, the pole itself symbolises the stick a patient would squeeze throughout the procedure to make their veins in their arm to protrude more prominently.
Barber polls have different meanings 
As noted by History.com, barbershops in Europe are traditionally red and white while in America they're in red, white, AND blue —which some suggests is a show of patriotism referencing the nation's flag.
Two barber poles directly next to each other is associated with sex in South Korea
More interestingly, South Korea uses barber poles to signify actual barbershops and brothels. LOL WHUT?! 
Generally, actual hair salons can be distinguished by a single-pole with the face of a woman and the words 'hair salon' on the storefront. In contrast, if you see a store with two poles next to each other, then that means it's a "special barbershop".
Here's how to differentiate the two justtt in case you're planning a trip to South Korea soon. Don't say we didn't let y'all know beforehand ah 😏.
Now, I know some of you may be wondering what happens when you walk into a special barbershop, amirite? Don't worry, I got you covered. 
It turns out, it looks just as what you'd expect a typical barbershop to look like. That means you CAN get a haircut there if you choose to. If, however, you're feeling a little frisky, all you have to say is 아가씨 주세요 (Agassi juseyo) which translates to "Please give me a lady" in English and they'll provide you with one. Not speaking from experience 🙄
The practice of bloodletting may have long died-off but the tradition of barber poles still carry on till this day.
I bet these facts surprised some of you as it did me. It's crazy thinking how something so common could have such a rich history attached to it. Knowing this has certainly made me appreciate the history of the craft even more!
The next time you get a haircut, try asking your barber if he/she knows its hidden meaning. Also, sound off in the comments below if you didn't know of its meaning and tag a friend while you're at it.
Right, now if you'll excuse me, imma call my mum to share my newfound knowledge. Have a great day ahead guys! 😀
Also read: Did You Know Gardenia Products are Sold For Almost 3x the Price in Sabah and Sarawak? Here's Why