A 'We Bare Bears' Themed Christmas in M'sia That's Breaking a Nationwide Record?! Here's What We Know!
We'd be lying if we said we don't love 'We Bare Bears'. EVERYONE loves We Bare Bears, right? In fact, if you're reading this article right now, we're willing to bet you're 110% a We Bare Bears fan too. 😉
Well, if you are, then you're going to love what we're about to tell you…
A We Bare Bears themed Christmas is taking place in Paradigm Mall and it'll feature a gigantic Christmas tree completely covered in 1,202 We Bare Bears plushies!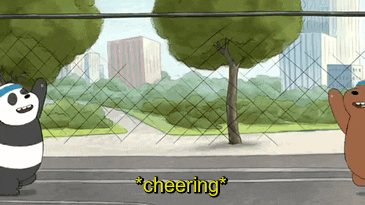 As if that wasn't cool enough, this uniquely decorated, first of its kind tree will be setting a new record in the Malaysia Book of Records with the most number of We Bare Bears on a Christmas Tree. The tree is more than 26 feet tall by the way! You've definitely never seen THIS many Grizzly, Panda or Ice Bear plushies in one place. UwU
And don't worry if you're not around Paradigm Mall Petaling Jaya to catch this majestic tree! You'll be able to view the
'Biggest Upside Down Christmas Tree'
at
Paradigm Mall Johor Bahru
and the
'Biggest Jenga Replica in Malaysia'
at
[email protected]
too! Apart from the distinctive decor, there are other exciting things you and your friends and family can look forward to when you drop by Paradigm Mall this festive season too, namely:
1. A We Bare Bears Meet & Greet
Whether you're three years old or already in your mid-thirties, you could always use a giant bear hug. Well, this Christmas, get warm bear hugs from the likes of Grizzly, Panda and Ice Bear right there in Paradigm! Don't forget to snap photos with them too!
Dates: 14, 15, 21, 24 & 25 December 2019
Time: 1pm, 4pm, 7pm
Location: Upper Atrium, Level UG
2. We Bare Bears Christmas Workshops
Get ready to let your creative juices flow and munch on some sweet treats when you join in on these activities:
We Bare Bears Shadow Box Workshop – 30 Nov, 7, 11, 15, 22, 24, 28, & 29 Dec 2019
We Bare Bears Clay Ornaments Workshop – 1, 8, 14, 21, 25, 28 & 29 Dec 2019
We Bare Bears Fondant Cupcake Making – 7, 8, 22 & 29 Dec 2019
We Bare Bears Royal Icing Cookies Drawing – 8, 22, 28 & 29 Dec 2019
Sounds like it's going to be a bear-y creative Christmas!
3. Meet & Greet with Santa & Ms. Claus
We Bare Bears are great and all but, no Christmas event is complete without the iconic Mr. Santa Claus. So whether you've been naughty or nice this year, make sure you, your kids, siblings, nieces, and nephews stop by and say hi! You'll get to walk away with some fancy Christmas gifts too!
Dates: 30 Nov, 1, 7, 8, 11, 14, 15, 22, & 25 Dec 2019 (2.30pm, 6pm) | 21 & 24 Dec 2019 (2.30pm, 4.30pm, 6pm)
4. Catchy, upbeat performances to put you in the Christmas mood
Apart from the usual Christmas carolling, there are a handful of other types of performances to catch too, and they're all free! There will also be a
Christmas Acrobatic Dance Performance
. How unique is that?! Here are the deets:
Christmas Acrobatic Dance Performance – 1 & 8 Dec, 5.30pm
Christmas Caroling – 7 & 14 Dec, 5pm | 11 Dec, 7pm | 21, 24 & 25 Dec, 5.30pm
Christmas Show Dance Jingle Bells – 15 & 22 Dec, 5.30pm
Smart Reader Kids Performance – 7 Dec, 11am, 4.30pm | 8 Dec, 11am
Q-Dees Performance – 14 Dec, 12pm
Drum Connect Performance – 7 & 28 Dec, 6.30pm
5. Redeem Christmas gifts when you shop at Paradigm Mall PJ
All you have to do is spend a minimum of
RM250
(
RM150
for HSBC credit cardholders/ WCT Buddy members), and you'll get to redeem an exclusive
We Bare Bears Duffle Bag!
Redemption period: Now until 29 Dec 2019
Redeem from the Concierge Counter, Level G
And if you have no idea what to shop for, there will be a ton of other We Bare Bears merch on sale too!
Christmas is indeed a time of giving, so if you're looking for gifts for friends and family, make sure you get them from Paradigm Mall!
6. Adopt a Bear!
In keeping with the spirit of giving and spreading joy, Paradigm Mall PJ is holding this "adoption drive"–where visitors can adopt a Bear just by making a
small donation of RM50
–all proceeds will go to the children and orphans from House of Joy, Yayasan Sunbeams Home, and Shepherd's Centre Foundation.
Just make sure you drop by Paradigm Mall (Concierge Counter, Level G) anytime between now and 29 Dec 2019 to make your donations. Once you've donated, you'll be able to "adopt" a We Bare Bear of your choice on 29 Dec 2019.
7. Christmas contests!
If you have a creative (and competitive) side to you, come and participate in the Colouring Contest and/or Christmas Tree Decoration contest! Here are the deets:
Colouring Contest, 8 Dec:
Category A (4-6yo) – 10am (Registration), 11am-12.30pm (Colouring session)
Category B (7-9yo) – 12.30pm (Registration), 1.30-3pm (Colouring session)
Category C (10-12yo) – 3pm (Registration), 4-5.30pm (Colouring session)
The prize-giving for all three categories will take place at 6pm. Prizes include Faber-Castell and We Bare Bears merch worth up to RM2,800 by the way! Find out more about this contest or register here.
Christmas Tree Decoration Contest, 6 Nov – 13 Dec:
Registration – 6 Nov onwards 
Submission – 13 Dec 2019 (participants will receive an RM50 cash voucher upon submission)
Online voting – 15-20 Dec 2019
Prizegiving and tree collection – 22 Dec 2019
Christmas tree requirements:
Category A – 3 feet
Category B – 5 feet
Decorations must include We Bare Bears characters, either self-made or purchased
Find out more about this contest or register here. Trees will be judged based on originality, creativity, use of materials and overall presentation. Prizes for this contest are worth up to RM5,000!
This Christmas Tree Decoration Contest will be running simultaneously at Paradigm Mall, Johor Bahru too!
Talk about a great and fun way to spend time with family.
Find out more about Paradigm's bear-y adorable We Bare Bears Christmas event by watching this video:
Now that you know what you're going to be doing this Christmas, make sure you mark your calendars and invite your friends and family. We'll see you at Paradigm Mall this December! It's going to be the most unbearably fun and memorable Christmas ever!
For more info on their Christmas festivities and promos, be sure to visit Paradigm PJ's website!