7 MUST Visit Food Bazaars in Klang Valley this Ramadan Season
Featured image source: hungrygowhere
The month of Ramadan has always been the pinnacle of social gatherings here in Malaysia. For Muslims, it is a month of repentance, self-reflection, self-control, and self-improvement. However Ramadan is actually so much more than that. In this multicultural piece of land we call Malaysia, we gather almost everyday around 5 or 6 pm to grab ourselves some grub be it to break our fast, or simply to sample street foods that would otherwise be hard to come by. Malays, Chinese, and Indians all partake in the event.
Ramadan bazaars is a place where we can set aside our differences and just be overwhelmed by the Malaysian cuisine. It is a yearly event, and it is that time of year where we prepare ourselves to eat delicious food. To help give you the best place to find the best food, here are 6 of the best Ramadan Bazaars to visit this Ramadan season.
1. Jalan Tuanku Abdul Rahman

*Image credits to mruncit.com
Also known as Jalan TAR, here is a place that is famous for having a huge variety of food to choose from. A great amount of people come here every year to grab something to eat, with hundreds of foods and stalls to choose from. Besides the usual bites like the Murtabak and Popiah, this bazaar also houses some of the best street food you'll find in KL such as the Mee Hoon Sup Gearbox and Nasi Campur.
Location: along Jalan Tuanku Abdul Rahman, Kuala Lumpur.
a
2. Stadium Shah Alam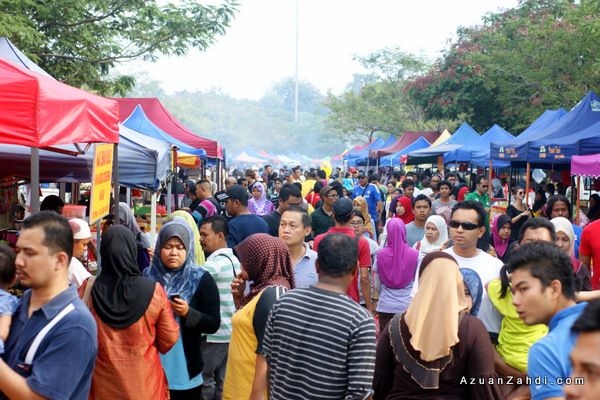 *Image credits to azuanzahdi.com
Stadium Malawati in Shah Alam isn't used just for sporting events and concerts, but during the month of Ramadan it is transformed into one of the biggest communion of food stalls, with some even calling this place the food heaven. Located across the stadium, it is home to almost 200 stalls and vendors. You can definitely find everything here from Ayam Percik to Kambing Golek. This place is highly famed for their unique shish kebabs, which is basically grilled skewered meats.
Location: near Stadium Malawati, Seksyen 13, Shah Alam.

*Image credits to timeout.com

*Image credits to malaysiasaya.my

*Image credits to vkeong.com
3. Bandar Tun Razak

*Image credits to ruxyn.com
Another bazaar that is located near a stadium, this one however is considerably smaller in size but still brings just as much variety and uniqueness. Found in the car park of Taman tasik Permaisuri near the Stadium Bola Sepak Kuala Lumpur, it is a plethora of food and diversity. Unique foods can be found here including Takoyaki and the ever popular Pisang Goreng Cheese or Pisang Goreng Chocolate.
Location: near the LRT station of Bandar Tun Razak

*Image credits to hungrygowhere.my
4. Kampung Baru
Kampung Baru is nothing short of good stalls and restaurants all year round. However, it transcends its reputation even greater during Ramadan with its enormous bazaar. Anything from Cempedak Goreng to the humorously named Roti Goreng MacGyver can be found here. The narrow walkway and the teeming crowd can sometimes be a bit overwhelming.
Location: along Jalan Raja Muda Musa
5. Bangsar

*Image credits to themalaysiantimes.com.my
Although the Ramadan bazaar in Bangsar is comparatively smaller than the others, the stalls within still packs a whole mouth-watering punch. Its less crowded than any other bazaars here in KL, and the food is always exceptionally good. You may find a huge variety of food, common during theRamadan season and also some of the best Malay kuihs, ranging from traditional to modern ones. The colourful assortments will leave anyone wanting more.
Location: near Bangsar Village II Shopping Mall
6. TTDI

*Image credits to backpackingmalaysia.com
Last but certainly not the least is the Ramadan Bazaar in TTDI. Short for Taman Tun Dr. Ismail, this place comes alive with people bustling to get food for breaking fast. Such delicacies like Kambing Golek, Murtabak Raja, Ayam Percik and lots more are a norm here. It is an everlasting battle between the lust for food and the coloured papers in our wallets when it comes to this place because you just want to get everything!
Location: along Jalan Tun Muhd Fuad 2, TTDI

*Image credits to anna.net

*Image credits to rasamalaysia.com
7. Bukit Bintang
Located along Jalan Berangan, you memang can dream of having your cravings satisfied here. From honey roasted chicken to Malay style mixed rice, practically everything here will make you go on a food rampage.
Get ready to dapao some ayam percik, roasted lamb, burger special and even those delicious kebabs!
Location: along Jalan Berangan, KL

*Image credits to backpackingmalaysia.com