7 Amazing Bars You MUST Not Miss in Kuala Lumpur
1. Mantra Rooftop Bar 
Located on the rooftop of Bangsar Village, Mantra offers a birds-eye view of the neighbourhood all from the comforts of a warm atmosphere complete with high stools and large beds on the balcony.
You know this places serves the best cocktails when you don't taste the alcohol in it and yet it's still potent (no seriously, their cocktails are to die for). Besides drinks, Mantra offer top quality food that will keep you coming back for more, with a nice mixture of Grilled Lamb Chops (RM68) to Seabass Ceviche served with Tortilla Chips (RM32).
Their must-try drinks include the Pulau Panjang (RM38), Dynasty (RM35) – a cocktail of Tanqueray No.10 Gin, Grapefruit juice and Jasmine tea served in a traditional Chinese teapot and a personal favourite, La Unica – a sweeter and fruitier cocktail paired with a delicious macaron!
Address: Rooftop Level, Bangsar Village II, Kuala Lumpur. Use the elevator at the centre of Bangsar Village II.
Operating Hours: 4.30pm – 1.30am daily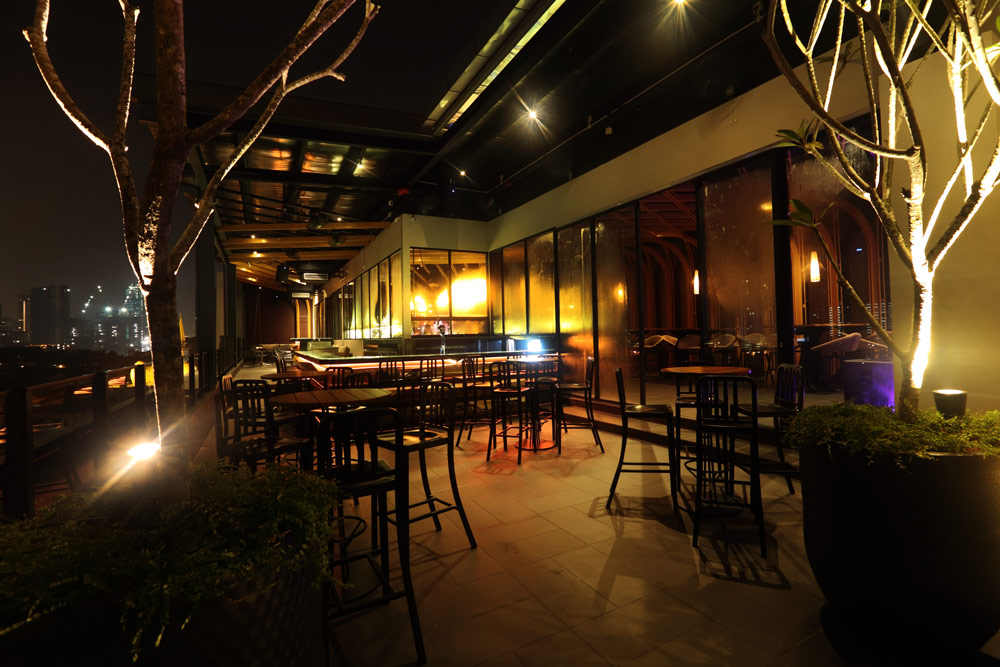 Credits: juiceonline.com
2. PS150

Credit: ruolinglu.com

Hidden amongst shop-lots in Chinatown and disguised as 陈大黄 Toy Shop, this incredibly atmospheric bar is a true speakeasy. The decor of red neon lights and exposed brick walls would make you think you've just stumbled into a Wong Kar-Wai movie.
Previously home to a brothel in bygone eras, this bar now houses the talents of chief bartender Angel Ng, a well-known name in KL's mixology scene. It's drinks are fairly priced considering their quality. Plus, drinks come with bottomless kacang putih that will satisfy your munchies.
The Pandan Flip (RM38; pandan-infused dark rum, coconut, bitters, egg yolk), Red Poison Princess (RM90 for two; tequila, mezcal, absinthe, raspberry, lime, soda) and Lychee No. 3 (RM38; London dry gin, lychee, ginger flower, lime) are a few of the winning drinks served at PS150.
Address: Ground Floor, 150 Jalan Petaling, Kuala Lumpur
Operating Hours: Tue-Sat, 6pm-2am; Sun, 3pm-10pm
3. Frisky Rooftop Bar
Every Thursday night here at Frisky Rooftop Bar is movie night – think outdoor screenings of independent international movies (see: movies you don't find at cinemas) with complimentary popcorn and an optional cocktail buffet (all the Mojitos you can drink for RM60 per person). A heads up that screenings start at 9.30pm.
They pride themselves on deep & groovy non-commercial music and a friendly atmosphere. Did we mention the sweeping panaromic view?
Address: 4A Lorong Yap Kwan Seng, Kuala Lumpur, 50450
Operating Hours: Tue-Fri, 7pm onwards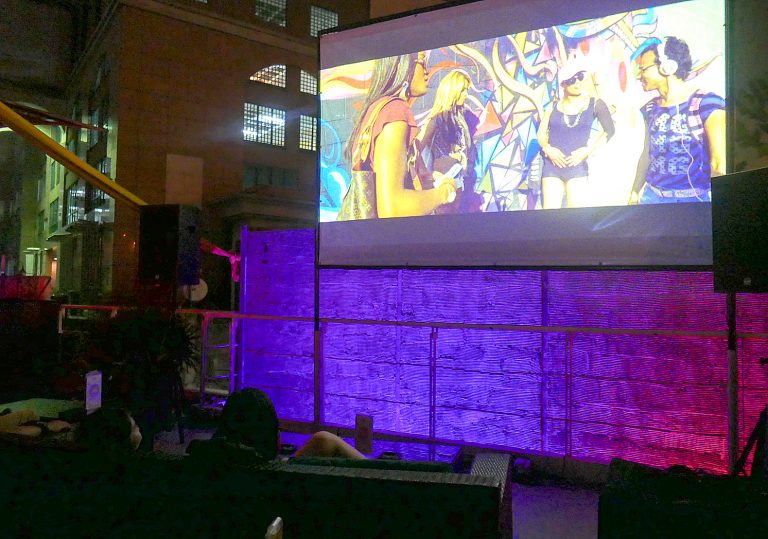 Image credit: eatdrink.my
4. Mr Brooks

Finding Mr Brooks is an adventure itself. Hint – look for the purple Sunbeam Alpine car on Bangsar Shopping Centre's third floor. Mr Brooks radiates a typical British gentlemen's club of the 1920s and is primarily a gin and cocktail bar. Look out for the very cool bicycle installation that doubles up as wall lights.
An all time crowd winner would be their Nan's Carrot Cake (RM60). It's a creamy concoction of fresh carrot juice in a cinnamon-infused drink. Another hit is the drink with a punny name – the Margarita Thatcher (RM60). It charms with it's mix of Agave nectar, egg white, orange cognac and lime and lemon juice. If you get hungry, fear not for one can order food from the Ben's next door.
Address: Level 3, Bangsar Shopping Centre, Jalan Maarof, Bukit Bandaraya, Kuala Lumpur, 59000
Operating Hours: Mon – Sat, 5pm – 2am


Credit: funnymalaysia.net
6. Heli Lounge Bar
The piste de resistance is a mere 2 flights of stairs above the club. Take that last step and one will be blown away by the spectacular uninhibited 360° view of the KL skyline. One is now on the Helipad, which is one of just five helipads in KL. Heli plays host on the helipad during special events like Christmas, New Year's Eve, National Day and is a perfect vantage point to view breath taking fireworks displays that ply the sky on such occasions. Apart from partying on the helipad, it is also open for private functions like product launches, birthday parties and corporate gatherings. Imagine downing Heli's signature cocktail, Hellusion as the sun sets and dining on fine food under twinkling stars amidst the lights of the city. This is certainly an urban adventure not to be missed.
Address: 34th Floor, Menara KH, Jalan Sultan Ismail, 50250 Kuala Lumpur.
Operating Hours: Monday – Friday 5:00pm – 3:00am
6. Barlai at Pudu


Credit: thebiggroup.co

Nestled in a heritage building in Jalan Sin Chew Kee in Pudu, Barlai is cleverly hidden inside a porch. The decor inside is an eclectic mish-mash of comfortable yesteryear days with old-school window panes and plush sofas. Expect to find many who come here to seek refuge from a long day at work, as Barlai is as laidback and fuss free as it gets.
Their cocktails are reasonably priced – take rif's Lemongrass Gin & Tonic at a cool RM16, or their eccentric Milo Kaw (RM24), a concoction of Milo and Irish Whiskey finished with hazelnut liquor.
Address: 3 Jalan Sin Chew Kee, Bukit Bintang 50150, Kuala Lumpur
Operating Hours: Monday – Friday 5:00pm – 3:00am Saturday – Sunday 3:00pm – 3:00am
 Credit: asia-bars.com


Credit: blog.peatix.co
7. The Attic Bar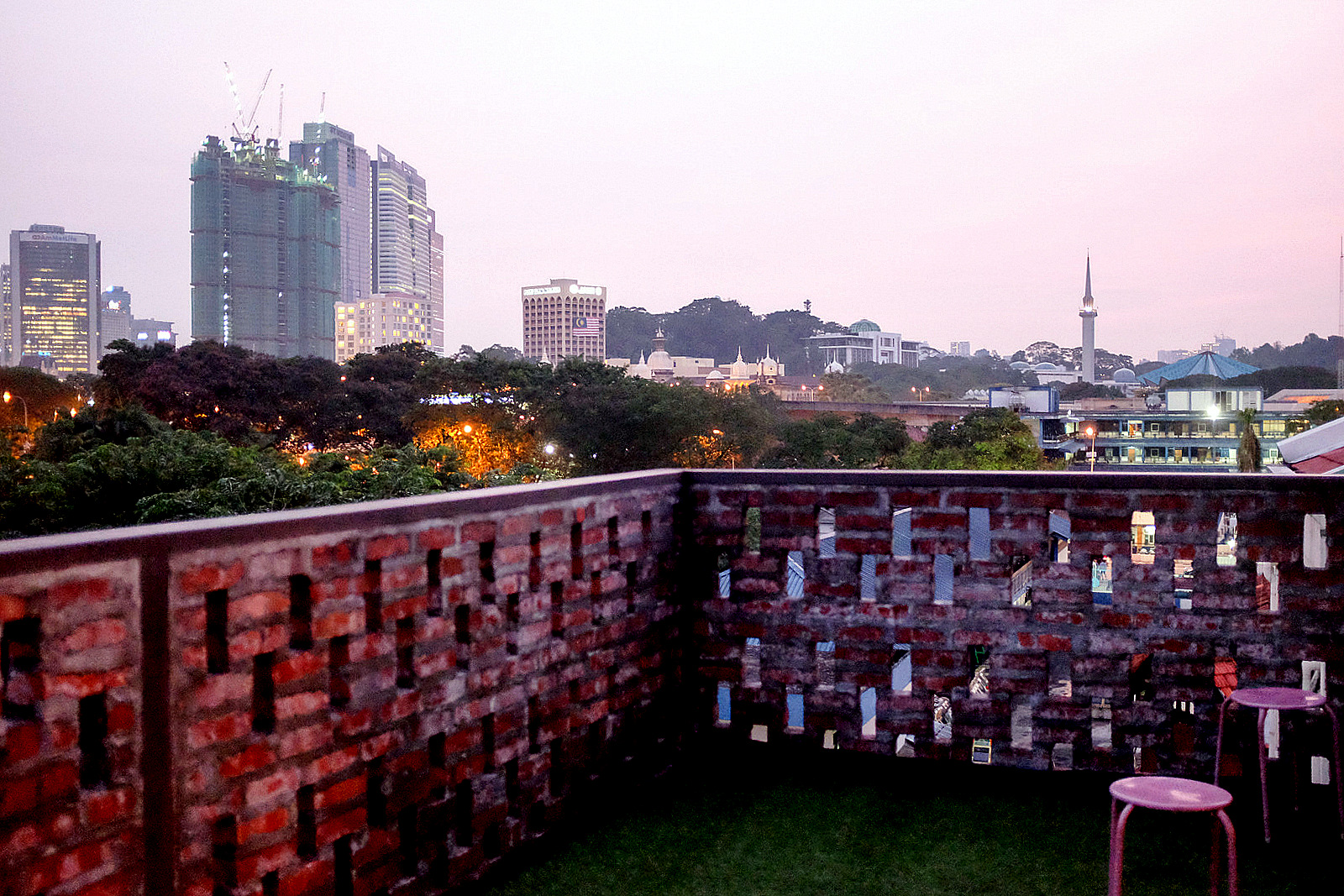 Credit: eatdrink.my
Travel Hub Guesthouse's bar is a discreet haven for drinkers, located just a short stroll away from Petaling Street. It also has a pretty sweet view considering how under-the-radar this bar is – one can see the Twin Towers and Menara KL from the rooftop.
Cocktails at The Attic are relatively cheap. A Mojito, Melon Martini or Mango Margarita are RM15 each, and RM20 will get you a Long Island Tea. But their most hyped drink has to be the mystery cocktail elusively dubbed Karma: for RM17. You get what you deserve but perhaps not what you want!
Address: 3rd Floor, 15 Jalan Balai Polis, Off Jalan Petaling, Kuala Lumpur
Operating Hours: Daily, 6pm-1am.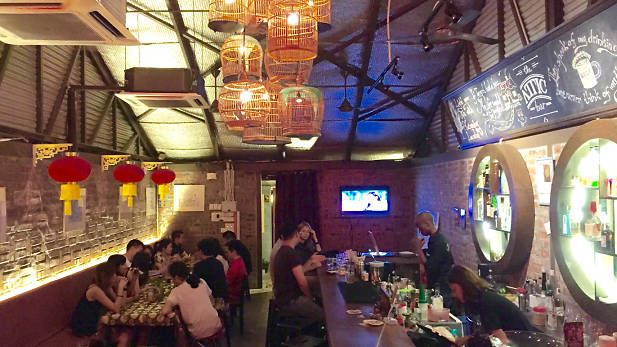 Credit: timeout.com