Watch: M'sian Motorcyclist Flies & Spins in the Air After Crashing Into Car That Abruptly Changed Lanes
On 27th September, a motorcyclist crashed hard into the back of a car, which sent him flying into the air where he spun several times before landing on the hood of the car.
This happened because the car had abruptly switched lanes before the accident took place along Jalan Sungai Besi.
Fortunately, no severe injuries were found on the motorcyclist although he did suffer a broken hand from the accident.
City Traffic Investigation and Enforcement Department deputy chief Supt Sarifydin Mohd Salled said that the driver was a Singaporean who switched from the middle lane to the right lane so abruptly that the motorcyclist could not slow down in time and crashed into it with his high-powered motorcycle.
A video recorded on a motorist's dash camera shows the car switching lanes at quite a slow speed and blocking the path of the motorcyclist.
The video also shows that the driver had used an indicator, but it was too late as the motorcyclist crashed into his car at high speed.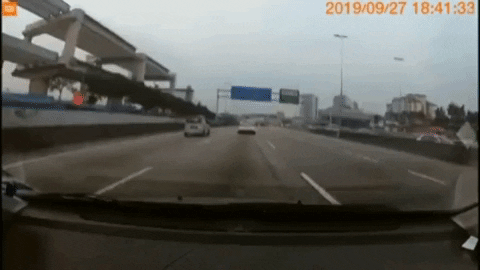 The video was posted on Twitter where it has since gained about 6,700 retweets and 2,800 likes at the time of writing.
Many netizens commented that it was the motorcyclist's fault as he was going too fast, adding that the driver had already used the signal. Others said that it was the driver's fault as he did not check the road before switching lanes.
Damn! Good thing nothing bad happened to the motorcyclist that would threaten his life. There's no harm in checking before switching lanes, and there's no harm in driving a little slower. 
Also read: Watch: M'sian Motorist Knocks Ambulance Off Road Near Genting After Swerving Into Emergency Lane