Watch: Hilarious M'sian Uncle Stares Down Young Man Who Tried to Dance With His Wife at Wedding
We all have that friend who always goes HAM at a wedding by dancing all over and with everyone.
Well, in a viral video shared by Mr. Nnazuan on Twitter, a young man was given the boot by an uncle after trying to dance with an aunty at a wedding. So cute!
Watch the video here:
Harapan untuk menari dengan salah sorang Aunty di majlis perkahwinan tidak tercapai setelah Suami beliau datang menyerang. pic.twitter.com/JkLNC29B3g

— Nnazuan (@Nnazuan) July 8, 2019
Mr. Nnazuan's caption can be loosely translated into "His dream of dancing with an aunty was not achieved as her husband came and attacked."
The video shows the aunty in question singing at a wedding as a young man in a suit comes up to her and begins dancing. The crowd roars with laughter as the lady's husband makes his way to the front and comes to a stop right behind the man. Hands on his hips, he stands there are the dancing man turns around to realise the husband has arrived, and tip-toes away in exaggerated cartoon style.
Meanwhile in Netizenville, Malaysians everywhere melted at the adorable-ness of the scene.
One netizen commented that he found this family to be so happy and funny while wishing them the best.
An eagle-eyed netizen said that the laughs in the video synced with the rhythm the young man was running to.
While another netizen said that the video made his day! Awwww.
Can we also appreciate how good of a GIF this is?!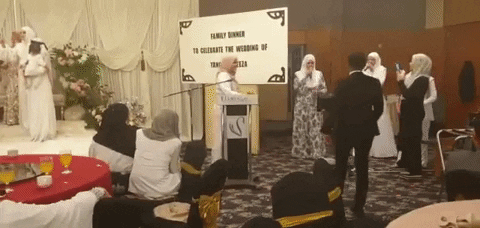 Source: Twitter
I guess we can all agree to the last netizen's comment as the video was really very cute. It showed that the people who were there really had fun and spent quality time together as a family. We wish the newlyweds and their families well!
Also read: Watch: M'sian Sound Engineer's Adorable Reaction As He Gets Completely Stunned By a Singer