Couple's Wedding Was Ruined After Marathon Caused a Massive Jam, 90% of Guests Didn't Come
Marriages are a special day in someone's life. It's the day you take a lifetime commitment with your loved one and of course you would want it to be perfect. Just like any other day, there's definitely something that can go wrong, not enough angpows, bad food, rude kids etc. But what if it's a marathon?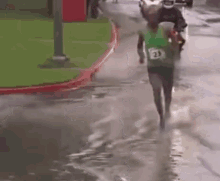 Facebook user Lee Jian Ming posted a status on how his wedding was ruined as it happened to be on the same day as the marathon
Basically, to kinda summarise everything, his wedding was a disaster because of the marathon. Only 10% of the guests were able to make it on time at 7pm. Even his own parents were late as they were stuck in traffic for THREE whole hours. Unfortunately, there weren't even any alternative routes to the hotel and the traffic marshals were clueless, re-routing their guests all over.
Lee even mentioned that one of his uncles had to miss the wedding because he was stuck in traffic, and their guests had to apologise for a mistake that was not their own. Added on top of that, all their vendors who were supposed to arrive at 4.45 pm ended up coming at 6.45pm. Bear in mind that the wedding was supposed to start at 7pm.
"Looking at my wife cry due to the disappointment that she wasn't able to pull off everything she planned for over the last 12 months, just 1 hour before the wedding and there's nothing I can do apart from consoling her."
Lee ended his post by saying that he doesn't blame the sponsors for the event but did say that the event should have been managed better as it not only affected their wedding but also would've caused a hindrance to people who may have had emergencies at the hospital as well as people going to work.
It's saddening to see this incident to happen on the couple's happy day. We hope they will be able to move on and here's wishing them a happy married life.
Also read: Standard Chartered Marathon Runners Accused of Littering DUKE Highway But This is What Really Happened