Soldier Gives & Helps OKU Woman Put On Mask & Gloves, Warms The Hearts Of Netizens
During this Movement Control Order (MCO) period, let's all remember to be thankful for what we have and who we get to share it with.
Because, there are many who don't even have food or family.
For example, Khairul Zulkefli took to his Facebook page to showcase a disabled woman on an electric wheelchair, on her way to an NSK hypermarket with no mask or gloves. Thankfully one of the soldiers on duty saw her, gave and helped her put on a mask and gloves.
He wrote, "This aunty is disabled, she wanted to go to the NSK hypermarket, but she didn't have a mask. So we gave her a mask and gloves. She was going alone to buy her groceries, she didn't have anyone to help. She's also only buying groceries because she just received the financial assistance payment. May her daily burdens be eased."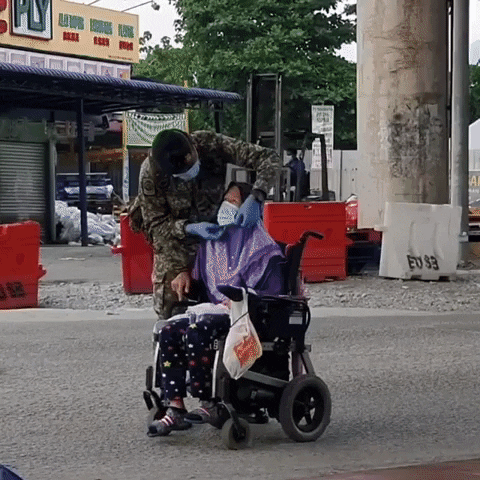 It turns out that the woman lives alone with her pet cats, as showcased in another video. She doesn't have any children or family members to help her with her daily needs.
In the video, Khairul can be heard asking if she had anyone had home.
"I have cats," she answered.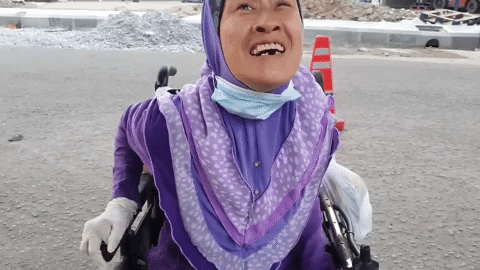 But the one thing that really brightened up our day is the fact that as she spoke to Khairul about her situation, her smile never faltered.
We genuinely hope that this sweet aunty never runs into any trouble during this MCO and for the rest of her life, and that the community that she lives in helps her if she were to ever fall into tough times.
Thank you, to our kind authorities on duty for helping this aunty!
Also read: Young M'sian Dad CYCLES and Chases After Distribution Van To Beg For Food To Feed His Family