Loving Husband Carries Paralysed Wife on His Back So They Can See The World Together
This is such a loving husband! A man from China was filmed carrying his wife, who suffers from motor neurone disease, on his back up Huangshan, one of China's most famous mountains, as reported by South China Morning Post.
In a video published on Pear Video on Monday (July 23), 57-year-old Wang Xiaomin was seen descending the stairway from the summit of Huangshan while carrying his wife, secured with a harness, on his back.

Source: Pear Video
"The world is so big and I want to take her to see it so that she will not leave with any regrets," he said.
Huangshan, known as one of China's 10 famous mountains, is a UNESCO World Heritage Site that has been celebrated in various art and literary works over the centuries for its beautiful scenery.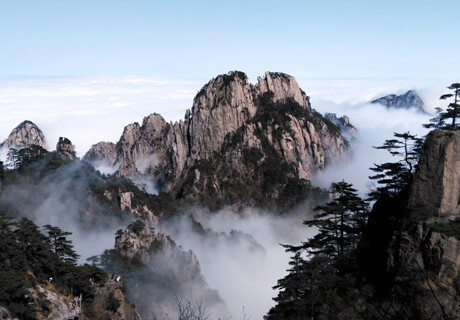 Source: China Highlights 
He said that his wife, whose name was not given in the report, was diagnosed with motor neurone disease five years ago.
The couple does not have children, which makes it possible for Wang to travel around the country with his wife.
Wang said it is unlikely that his wife would recover from this kind of disease, hence he made the decision to carry her on his back to see the world. What a loving husband he is!
"I want to give her a more meaningful life," he said. 

Source: Pear Video
He further said they had previously explored sites like the Potala Palace in Lhasa and Hohxil on the Tibetan plateau.
They have not decided on their next travel destination, but Wang is determined to carry his wife along the way as the couple explores the world together.
What a touching story! This couple just showed us what true love is! We wish them a lifetime of love and happiness!  
Also read: True Love Does Exist: Malaysian Girl Details Painful Journey With Very Sick Husband