When you really need to pee, you'd probably try to hold it until you find the nearest toilet to relieve yourself. But some people think it's okay to just pee in public and on public property.
Like this guy, probably from Malaysia, who decided to pee near a river under a bridge. A video was posted on Facebook where you can see him standing close to the edge of a platform urinating, but the focus isn't on him – it was on his friend.
The friend turns to the camera and puts his finger to his lips, indicating to the cameraman to keep quiet as he proceeds to disturb the pee-ing man. 😂
He slowly walks up to his friend and whacks him on the head. He then ducks to the right, trying to get out of sight of the pee-ing man. But to his utter shock, the pee-ing man turns to the right as well, WHILE still urinating.
The friend is then disgustingly sprayed with pee right on his mouth! Gross!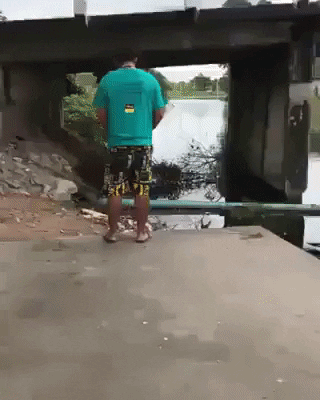 Because he was squatting at the time, he loses his balance and falls off the ledge, but the fall is probably not what he was thinking about. I mean, if you had your face sprayed with someone else's pee, getting it off as soon as possible is probably what you'd be thinking about at the moment.
It is not known where exactly this happened or who these men are, but they sure made a spectacle of themselves that day.
Watch the full video here:
OMG! That surely couldn't have been a pleasant experience. 
Also read: M'sian Girl Shares Horrifying Videos of Her Doggo Causing a Poop-And-Pee Disaster in BF's Car