Video: M'sian Man Yells At Kajang Officer For Giving Him a Saman & Kicks Person Recording
We Malaysians tend to double park and not pay our parking when it comes to doing quick errands like buying bread or anything of that sort. Most of the time, we get out scot-free but sometimes when we are unlucky, we'll get the much-dreaded saman.
This man in Kajang was issued a saman by the Kajang officer but instead of taking the summons and paying for it, he decided to throw a fit. The assault was caught on camera and the video was uploaded online, and needless to say, it went viral. Here's the video.
Saman parkir Majlis Perbandaran biasanya RM10-20. Bayar saja. Langsung tak berbaloi bertindak seperti pemuda ini. Silap hari bulan tidur lokap RM10 punya pasal. pic.twitter.com/eiylUtQdY7

— MyWatch (@My_CrimeWatch) February 26, 2020
It was unclear what they were discussing in the earlier parts of the video but the man was talking to the officer in a condescending tone. He even called the officer "bodoh" and "bangang". So rude! Then he moves away from the officer and kicks the phone from the hands of a person who was recording the whole incident.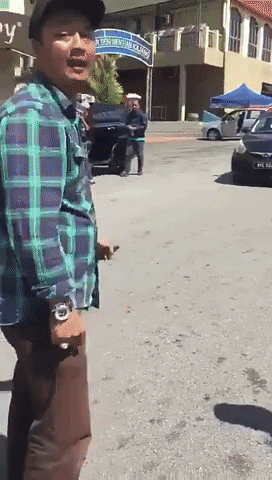 As he was attacked, the man shouted at the assailant and a shouting match ensued.
Netizens are condemning the man for resorting to violence and for being rude in general when the fine will not even be of much money.
It is said that the man has now been arrested and will be remanded soon.
That is certainly not the way to do things! What do you think about this? Tell us in the comments!
Also read: Watch: M'sian Student's Mum Makes Teacher CRAWL Around The Classroom For Punishing Her Child