M'sian HORRIFIED When She Sees Jackfruits Cut Like Watermelon At US Grocery Store
There's nothing like the pure pleasure of a juicy slice of watermelon or pineapple on a hot day — but not all fruits work the same, and in this case, another tropical fruit has fallen victim (again) to the western world.
The jackfruit is now a vegan icon that has received much love and hate for its fleshiness and sometimes pungent smell.
Wanting to keep up with the times, supermarkets in the West have joined the jackfruit bandwagon but with hilarious results.
Mei Tan took to Facebook sharing her experience seeing gweilos cutting up jackfruit like how they'd cut watermelon.
On her trip to the Whole Foods Market in Wheaton, Illinois, Mei Tan had the shock of her life witnessing how the supermarket chain treated Southeast Asia's beloved nangka fruit.
Mind you that not long ago the silky and sweet jackfruit was once called a 'pest-plant' and 'spectacularly ugly' by Guardian newspaper, so seeing as how Americans have absolutely no idea how to approach the fruit is understandable.
Mei Tan writes, "This is how Whole Foods cut up nangka (jackfruit). I don't know whether to laugh or to cry #fail."
You'd think that with the advent of Google and the internet, people at Whole Foods would most likely resort to YouTube to better understand the fruit, but then you'd be wrong.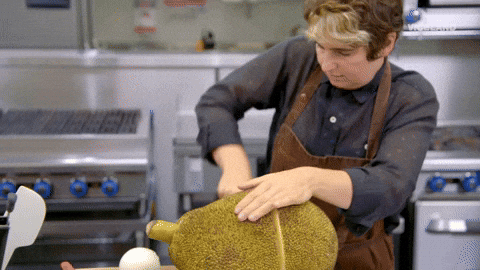 The Facebook post, which has seen more than 1.2k likes and 2k shares, witnessed Asians from all walks of lives, joining hands to pile on the hurt in a multitude of languages.
But even famed Malaysian-based British food host Rhys William wrote, "Why did the mat salleh cut the fruit like watermelon?"
Bingai punya mat Salleh boleh dia potong macam buah tembikai 🤦‍♂️

Sebagai mat salleh, saya nak minta maaf atas kebangangan mereka 🙏 pic.twitter.com/CXcHD3BjRT

— Rhys William (@si_rhys) August 2, 2019
"On behalf of all mat sallehs, I would like to apologise for their ignorance."
It is no secret that certain fruits require a precise technique to get to the actual flesh of the fruit, and it wouldn't hurt for big supermarkets like Whole Foods to have the bare minimum knowledge of their produce.
Also read: UK-Based Portal 'Discovers' Jackfruit But Calls It "Ugly and Smelly" & Asians Find It Racist AF