M'sian Lady Has Rottweiler Carry Her Handbag & We're Sure She's Not Getting Robbed
There's clearly something up with Malaysians at this point considering animal abuse cases are on the rise. But there's also another issue that has always been abundant in Malaysia and is still steadily increasing, snatch thief cases.
So what do you do when you want to avoid getting your bag snatched by criminal motorists lurking around every corner? Well, for starters, you could make sure you're not carrying your bag on your shoulder that's facing the road, or you could just not carry a bag at all.
Or you could be like this lady at Bukit Bintang and have a personal bodyguard carry your bag for you. Oops, did I say bodyguard? I meant a huge Rottweiler! MyWatch (@My_CrimeWatch) took to their Twitter to showcase the adorable yet menacing obedient big boy carrying a handbag while his mommy walks on in front of him.
Kalau anda mahu elakkan diri dari diragut tiru cara wanita ini. 😁 pic.twitter.com/7B9seFBOgf

— MyWatch (@My_CrimeWatch) October 9, 2019
MyWatch wrote, "If you want to avoid getting your bag snatched, imitate this woman."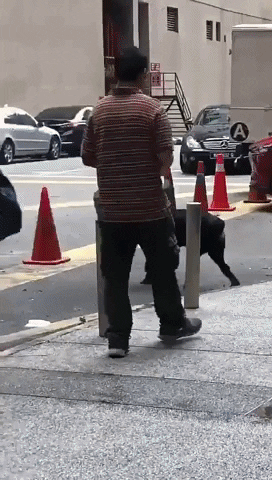 I'd honestly want to see someone try to snatch the bag from the doggie. I bet the Rottweiler would trade the bag for a hand, making it a natural snatch thief repellent.
Rottweilers are known for their strong grip and loyalty, making them wary and fierce towards strangers.
MyWatch's posting has since garnered over 442 retweets.
Rottweilers are definitely safer than any man out there.
Also read: DBKL Dog Catchers Carry Innocent Puppies By Their Hind Legs, Dangling Them Helplessly