Here's What Jai Wolf & Nothing But Thieves Are Bringing to This Year's Good Vibes Festival!
Good Vibes Festival (GVF) 2019 is less than a week away and we're stoked for a fun weekend filled with great music from artists all over the world!
In the build-up to this awesome festival, WORLD OF BUZZ recently had the chance to chat with two artists from GVF's impressive lineup — Jai Wolf and Nothing But Thieves — to give you guys an idea of what to expect from their upcoming sets, their latest work, and what they think about Malaysia. Check out what they had to say!
Jai Wolf 
Inspired by a multitude of different genres like pop, alt-rock, and even Indian classical music (just to name a few!) it should be easy to deduce that Jai Wolf is no stranger to experimentation. With his newly-released debut album 'The Cure to Loneliness' receiving critical acclaim, he's definitely taking the industry by storm!
We had the pleasure of chatting with electronic music's latest sensation recently and found out what he has in store for GVF this year.
Describe your music in 3 words
Jai Wolf: I would say my music is nostalgic, cinematic, and reflective.
What about collaborations? Are you keen on working with other artists in the future?
Jai Wolf: Yeah, definitely. Ellie Goulding, Halsey, Troye Sivan, Chvrches, and Lorde are some of the artists I would definitely love to collaborate with in the future.
Congratulations on your debut album, 'The Cure to Loneliness'. What was the process behind making your album like?
Jai Wolf: Last year, I wrote most of the album. I spent most of my time in LA writing it. I was working on it for 3 years, and the first year was mainly focused on figuring out what I wanted it to sound like.
I was touring a lot in 2017 and it started to really mold me. It was important to me to have continuation (in my work) not just in terms of sound, but lyrically and thematically as well. So whenever you listen to it front to back, it would be continuous as a body of work.
What were some of the biggest challenges you have faced as an artist? 
Jai Wolf: I guess it's just not feeling the need to be creative. Some days, you feel like you can't write anything or come up with exactly what you want and that takes time to perfect. It can be very discouraging. I think the biggest challenge is actually growing because it's easy to get stuck.
Knowing that tomorrow's another day and that some days you'll have good days and other days can be bad [is one way to deal with these challenges]. I was just always hoping that the next day would be better and it would generally be better for me.
On top of that, just be determined to get through your low points. Just keep thinking that you'll try again the next day, and you'll eventually find your way.
What comes to mind when you first think of Malaysia?
Jai Wolf: I actually had a childhood friend who is Malaysian. It's funny because I haven't kept in touch with him since we were 5 but I remember hearing about a city called Kuala Lumpur, so when I go to Malaysia, I'll definitely be thinking of him. It's crazy to think that decades later, I would be heading here to perform!
What can fans expect from your set at this year's GVF?
Jai Wolf: I'll be playing a lot of songs from my album and my live show will be a great visual experience so I'm very excited to play Malaysia!
I'm also excited to finally see all the fans in Malaysia. I'm glad that we have the opportunity to go out there and perform. Being in Malaysia for the first time is also a great opportunity to introduce yourself as an artist to people who may not have heard of you. So, I'm excited to venture to a new part of the world, it's one of the most exciting parts about being a musician and I'm really looking forward to it.
Well, we're definitely looking forward to seeing what Jai Wolf has in store for festival-goers this weekend! 
Nothing But Thieves
We at WORLD OF BUZZ were also lucky enough to have spoken to Nothing But Thieves' frontman, Conor Mason on what we can expect from the English alternative band's set at the upcoming hilltop extravaganza. 
Check out what he had to say!
What's the first thing that comes to mind when you think of Malaysia? 
Conor: You know what, I'm going to answer that honestly. I don't know anything about Malaysia and I always think to do some research before I go to a place. And I'm going to do that and just completely absorb it all and figure out what there is to do and what there is to eat. So I'm not going to be naive and pretend to know anything about it (Malaysia), but I got to get started soon before we go there. 
Have you started your research yet? 
Conor: Not yet, but could you suggest what we should eat or do (while we're in Malaysia)?
Of course! For food, you're definitely going to want to go for Nasi Lemak.
Conor: I'll remember that!
What can your fans expect from your set at GVF?
Conor: I think they can expect a lot of contemporary rock songs mixed with our ballads, it's kind of like our records but better. Yeah, there's a flow to our set, it's not all one-paced but it's energetic and there are moments of light ballads. That's kind of the way I hope it'll go. 
What would you say is the biggest boundary you've managed to push so far?
Conor: I think we've definitely dived into the Hip Hop world on the last record and a little bit in the first record too. I've always been influenced by Hip Hop and it's really good for rhythm. The second record we took it a little further, there's actually a rap on that record.
I think that was definitely the most extreme at that time, but we're writing a third record and it sounds completely different than what we've done before and we're not quite even sure what it is yet, but it's exciting!
We just try to never write the same song, every piece of music that we get to see is like a new painting or new project and we just try to make it different from the last song. That makes it interesting for us. 

Is there any particular sort of experiment that you've been wanting to try but have never been able to?
Conor: Yeah, definitely, I've always wanted to do collaborations with (other artists) which we haven't quite gotten around to doing yet, but it looks like we'll be able to do within the year or next year but that's all I'll say for now, I won't say who it is but I've always wanted to do that. 
How did the name "Nothing But Thieves" come about? 
Conor: It was our manager actually, he's such a big band geek and we were very young (at the time) and had just started. We were all trying to figure out names and had a list of about 10 to 15 names, but our manager had this name which was a lyric from an old song that we all loved.
He picked the three words out and we were like yeah, that's really special. It just stuck! It wasn't anything overly poetic or overly thought out and it worked. The song was called 'Bullet' by Steel Train.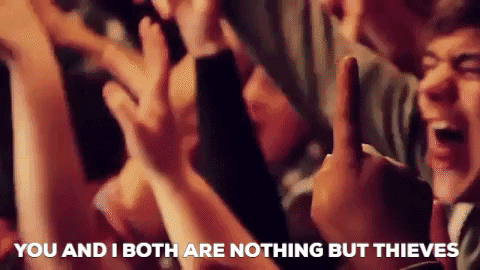 Since you guys are called 'Nothing But Thieves', if you could successfully steal anything in the world, what would it be and why? 
Conor: Probably time, so that I could have more time to do everything, have time for family and friends and do work. 
That's a super good answer! I wouldn't have thought of that. 
Conor: Yeah! It's definitely the hardest thing in life — just having enough time.
Well, based on what Conor had to share, we're going to have to bring our A-game to handle the show that's about to hit us hard. We definitely cannot wait to catch them live!
Catch Jai Wolf and Nothing But Thieves along with other regional and international artists at the sold-out Good Vibes Festival 2019. With such a huge lineup this year, it's something we're sure music lovers wouldn't want to miss!
Heading to the festival this weekend? Then be sure to download Maybank's M2U app to use the MAE e-wallet (the only e-wallet at GVF) to enjoy exclusive perks at their booth. Be sure to use the code MAEVIBES to get 10% discounts!
Check out the amazing perks you can get from using the M2u app's MAE e-wallet at GVF here! (Psst! Maybank also recommends downloading the MAE app before heading to GVF in case of connection problems at the festival grounds!)
Have fun and stay safe this weekend, y'all!
Also read: We Spoke With The Organisers Of Good Vibes Festival & Here's What You Can Expect This Year!