Beware: 24yo Woman Left Her Aircon On in Room and It Burnt Down Her Entire Apartment
Be warned. Always ensure your air con is regularly checked every 12 months because not doing so could really put lives in danger! 
A 24-year-old woman who is the owner of a HDB flat unit in Singapore had to watch helplessly as her entire four-bedroom flat burned down before her eyes from a fire caused by her air-conditioner on the afternoon of 23rd September.
The aircon that was fixed on the wall in one of the bedrooms was left on and the door was closed.
The woman was allegedly in the living room with her family when they heard noises from the bedroom. When they opened the door, they were shocked to find the whole room engulfed in flames!
The fire was so intense that the woman realised she wouldn't be able to extinguish it in time, so she proceeded to hurriedly close the door and evacuate her family from the building.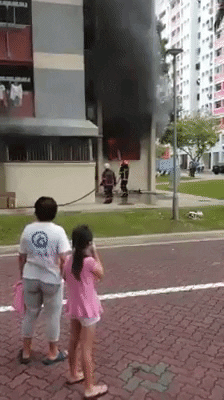 According to Mothership.sg, the family of six consisted of a wheelchair bound 73-year-old, an 82-year old elderly person and even a five-year-old child!
The family kept a safe distance as they waited for firefighters to come to their aid. A passerby managed to take a video of the incident, revealing a lethal cloud of black smoke that could be seen coming out from the unit.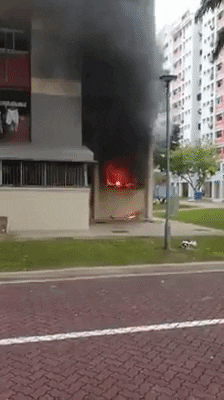 Thankfully, everybody was safe and the firefighters managed to extinguish the fire to stop it from spreading to other units.
So what was the cause of the air con exploding? While investigations are still ongoing, it was reported that the family had used the air-conditioner for six years now.
According to Hunker, most air conditioning fires are caused by a short circuit in wiring that causes the appliance to overheat and subsequently ignite. However, this tends to occur more frequently with air conditioning systems that are old and not inspected regularly.
Hence, this should be taken as a warning to those who like to leave their air-con on in rooms unattended! We know the haze makes staying indoors the only option and air-con is our best shot at staying well-ventilated.
However, leaving your air-con on when nobody is in the room is not only wasteful in terms of electricity, it could also put lives at risk if your air-con isn't inspected every 12 months!
Also read: Netizen Shares What You Need to Know About Your Air Conditioning Unit's Setting