Thrift stores are quickly becoming the new epicentre for many Malaysian fashionistas, and it's not hard to imagine why that is. From their incredibly affordable prices to their one-of-a-kind treasures, shopping for a look that reflects who you truly are has never been easier. And this is on top of the fact that shopping at thrift stores can help save the environment from the vicious cycle of fast and disposable fashion.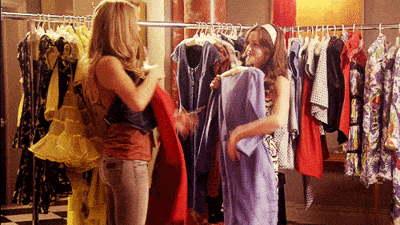 Did you know that according to the United Nations Environment Program, the fashion industry is estimated to produce as much as 10% of the world's total carbon emissions? That's from one single industry alone. And breaking that cycle of buying and throwing away clothes season after season starts with us through sustainable buying choices.
Here are our picks for some of the Klang Valley's best thrift haunts:
1. Baden-Baden Bundle
Located in Setapak, Baden-Baden Bundle is one incredible place to start off with if you're planning to embark on your thrift-store journey. Housed in a warehouse space that is split into two floors, the expansive thrift store offers everything from used clothes to bags, accessories, vintage toys and even crockery.
Address: Lot 3 5, 4, Jalan Genting Kelang, Danau Kota, 53300 Kuala Lumpur, Federal Territory of Kuala Lumpur
Operating hours: 10am – 10pm, open daily
2. Buntil Bundle
Initially located in the suburbs of TTDI before moving to their current location in Shah Alam, Buntil Bundle is a pretty well known spot for incredible vintage fashion finds for cheap. Frequented by even the likes of local designers like Datuk Bernard Chandran, this thrift store's inventory is truly enviable. (I even bought a nylon Prada bag for only RM100) Occasionally, the store owner also sets up shop a Publika's weekend market, so do keep an eye out!
Address: No. 16, Jalan Opera C U2/C, Taman TTDI Jaya, 40150 Shah Alam, Selangor
Operating hours: 2pm – 12 am, open daily
3. Jalan-Jalan Japan
With its most popular outlet located in Subang Jaya's One City, renowned local thrift store chain Jalan-Jalan Jepun now also has an outlet in 1 Shamelin Mall, KL for your convenience. This one is a no-brainer for those who enjoy thrifting, as it tends to be the first stop for those embarking on their sustainable shopping lifestyle. Offering clothes directly imported from Japan, you can find many hidden gems if you know what to keep an eye out for.
Address: Unit L3 Level 1Shamelin 56100, 032, Jalan Wangsa Perdana 1, Au 3, 53300 Kuala Lumpur, Federal Territory of Kuala Lumpur
Operating hours: 10am – 10pm, open daily
4. Amcorp Mall
Honestly, Amcorp mall is literally a mall that consists primarily of thrift shops. Start here if you don't want to have to travel to fifteen different places, because a number of popular thrift stores are housed within the mall itself.
Chia's Cotton Chic is perhaps one of the most well known among the lot, with over three shops inside Amcorp. But there's also another corner thrift store located on the upper levels of the mall that stocks a good selection of designer vintage clothes, from Burberry coats to timeless Diane Von Furstenberg wrap dresses.
Address: 18, Jalan, Persiaran Barat, Seksyen 52 Petaling Jaya, 46050 Petaling Jaya, Selangor
Operating hours: 10am – 10pm, open daily
5. OkGo Store 
If you're the type who doesn't like the hassle of digging through literal heaps of clothes to find the right pieces you want to buy, Subang's OkGo Store offers a truly curated selection of used clothing sourced from a number of different places for your delectation. Of course, with an almost boutique-like feel and curated racks, you do pay a little more than usual, but RM100 can definitely bag you something fresh and chic.
Address: 17A 1st Floor, Jalan SS 18/1b, 47500 Subang Jaya
Operating hours: 1pm – 6pm, Thursdays to Sundays
6. 2nd Street Trading 
Are you a streetwear fan? Then you probably realise that streetwear rarely ever comes cheap. What makes it all the worse is the fact that many brands have started to create artificial demand by producing only small amounts of their clothes, causing prices to inflate considerably due to massive demand and limited stock. But have no fear, 2nd Street Trading in KL Trader's Square has all your favourite streetwear brands, from Stussy to Nike, at a fraction of the price! While stocks last though.
Address: Unit 91-G & 91-1 KL Traders Square, Jalan Gombak, Setapak, 53300 Kuala Lumpur
Operating hours: 10am – 10pm, open daily
So there you have it, some of the best places to get your thrift on while saving the planet with one used item at a time! Tell us what you managed to get your hands on! 
Also read: 20yo Shares How He Managed To Own A House & Car After Starting A Kedai Bundle