40yo Elephant Dies After Villagers In India Throw Burning Tyre At It
Considering the fact that we're sharing the planet with other beings, the least we can do is be kind to them, right?
Well, humans clearly have other plans.
A 40-year-old elephant has died after a resident of the village it entered threw a piece of burning tyre at it, causing the burning item to get lodged at the elephant's ear. As according to Business Today, the incident took place in Masinagudi in Nilgiris, India.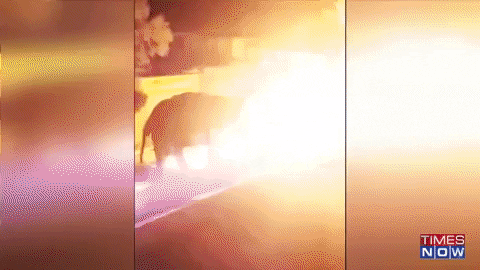 In the video showcasing the incident, the elephant can be seen trying to find it's way out of the village and away from its attackers, but sadly, it couldn't get away fast enough.
Forest rangers had later found the elephant with severe injuries to its ear and back. The poor creature died as it was being transported to a medical facility.
This incident has since caused an uproar, not only among animal lovers but also Indian celebrities, including actress Koena Mitra, who condemned the unethical act.
Extinction of Humanity!#ElephantDeath #Humanity pic.twitter.com/YVoKYxbsxy

— Koena Mitra (@koenamitra) January 23, 2021
Two people have since been detained over the act of animal cruelty.
We genuinely hope that the Indian authorities take the necessary action against the perpetrators.
What do you think about this? Let us know in the comment section. 
Also read: Indonesian Teenager Throws Cat From Hilltop For The Sake Of Social Media Content