Watch: Motorcyclist Thrown Off Bike After Car Cuts Into Middle Lane & Crashes Into It On KESAS Highway
A car flipped on its side and skidded several metres on the road after colliding with a motorcyclist on the KESAS Highway.
According to Info Roadblock JPJ/POLIS, the incident happened on 19 December where several cars can be seen driving on the highway.
At that point of time, a motorcyclist emerges and is seen riding on the middle lane when a car on the right lane suddenly swerves into the middle lane and knocks the motorcyclist with great impact.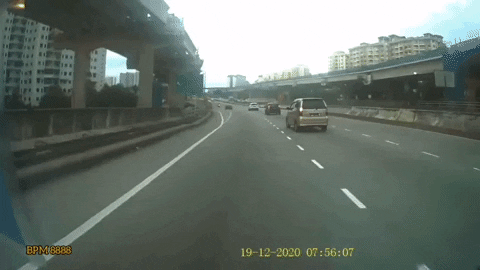 The motorcyclist is immediately thrown off the bike and falls head first onto the road while skidding forward. He continues to tumble forward as he struggles to stop himself.
Meanwhile, the car loses control upon impact and hits the road divider before flipping to its side. It continues skidding forward on its side and eventually stops about several metres away from the point of impact.
It is uncertain if the rider of the motorcycle or the driver of the car suffered any injuries and no additional information have been made available so far.
Here's the full video:
Be safe on the road, guys!
Also read: "We need sex lah" 17yo M'sian Girl Allegedly Sexually Harassed By Driving Instructor In Selangor