I'm sure we all have had those cravings that dictated to us that we needed to travel to another state to satisfy them. For example, the beef tripe noodles in Seremban, or maybe Sarawak Laksa! No matter how people from other states try to recreate these dishes, it'll never be the same.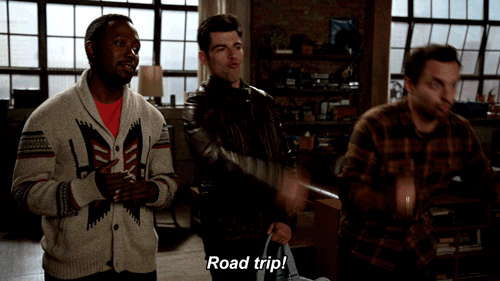 This man had such strong cravings that he actually changed all his plans and decided to fly to Malaysia instead- just so that he can have his favourite nasi lemak ayam!
According to Malay Mail, online entrepreneur and YouTuber Darren Cronian from England was planning to spend the whole winter in Greece. He was scrolling through Instagram when he saw a picture of nasi lemak, that magical image compelled him to make a change of plans.
He bought himself flight tickets from Athens to KL and also filmed the entire process and uploaded it on Youtube.
"I flew from Athens to Singapore, which took around 11 hours, and then after a six-hour stopover in Singapore, I flew to Kuala Lumpur."
Right after he landed, he indulged in a plate of nasi lemak with ayam goreng. Despite the jet lag and long flights, he said that this trip was completely worth it! Yasssss, this is the power of nasi lemak!
He told Malay Mail that his love for our beloved national dish started 5 years ago during his first visit to Malaysia.
"It was literally the first Malaysian dish that I'd tasted on my first visit to Kuala Lumpur, and like a typical British guy, I ate each item on the plate individually. After watching a local eat nasi lemak with his fingers, and mixing up all of the ingredients, it made me want to do the same."
Yessss that's the way to go! 
Then he said that that moment he mixed it all up and ate the first bite was the moment he fell in love with it. It's love at first bite y'all!
With that, he dived into our local delicacies and now has a few favourites such as Sarawak laksa, mee goreng mamak, and kolo mee, as well as Indian delicacies from Brickfields.
He has also commented that Malaysians are really hospitable and he considers Malaysia his second home.
"After spending a week in Kuala Lumpur and Penang during my first visit, I felt welcomed and safe. What makes it feel like my second home is the people, the food and the multi-cultural aspect of the country,"
Every year, he comes back to Malaysia and spends about one or two months here. On this trip, he decided to stay in Kuala Lumpur for a little while more before heading to Penang, Sibu and Kuala Terengganu!
We wonder if he has tried Village Park yet! However, if you do see him around, how about treating him to more nasi lemak! Watch his video here!
Also read: S'poreans Are Salty Over This McDonald's Malaysia Ad About How Good Our Nasi Lemak Is