This 8-10th Aug Only, TREC Will Be Featuring a Giant Ball Pit, Yummy Street Food, On-Ground Booths, & MORE!
Anyone living in the Klang Valley who appreciates a happening nightlife will know that TREC Kuala Lumpur (Taste, Relish, Experience, Celebrate) is the best place to be. It's the largest entertainment centre in the city with a large assortment of bars, pubs, clubs, cafes, lounges, restaurants and more, all in one place!
Well, whether or not you frequent TREC a lot, you'll be glad to know this place is about to get a lot more exciting!
From 8 to 10 August, Malaysians' favourite e-wallet 'Boost' will be having a special cashless lifestyle event where they'll be turning TREC into a giant playground for the grownups!
Without further ado, here's what you can expect from this once in a lifetime event a.k.a. Boostopia:
1. Shop 'til you drop as Boost's online merchants come offline and go on sale right here at TREC
Everyone knows TREC is known for drinks and delicious food, but how often do you get to do your shopping here too? Well, for three days only, Boost's online partners will be opening on-ground booths and selling some of the items you've been eyeing online right there at TREC. See, touch, feel these items IRL and purchase them with Boost!
Moreover, when you #PayWithBoost here, you'll be earning yourself 18x Super Shake tokens for every RM10 spent! Read 'til the end to learn more about the Super Shake contest.
Some of the partners that will be there include Watsons, BuyMall, DeliverEat, Signature Market, Cuti.my, and many more.
2. Sing and dance along to live music performances from popular local artistes
Popular artistes including
Talitha Tan, Paperplane Pursuit, and Ryot Jones
will be performing and singing their hearts out at Boostopia so make sure you come and check them out!
Also ICYMI, Paperplane Pursuit recently announced that they will be retiring, so if you want to catch them performing live, this is one of your last few chances to do so!
3. Go on a gastronomical adventure with the many on-ground food stores that will be at the event
With Boostopia happening, you'll find that you'll be even more spoilt for choice as Boost will be bringing in local Malaysian street foods as well as other popular F&B outlets to TREC!
Some of these F&B pop-up stores will include the likes of Beard Brothers, The Fishbowl, Drinkies, Skinny Bakers, The Yard- Sausage Sizzle, and more! Some food trucks including Little Fat Duck, Cowboys, Pulut Mangga, Easy Noodles, Mimie Coconut Shake, Krispy Kreme, [email protected], and others will also be there!
Yummy! Some of these stores will be coming up with Boostopia-exclusive pop-up menus so make sure you give everything a try! Cannot get anywhere else you know!
4. Bring out your inner child at the giant ball pit
Who says ball pits are only for kids? Adults can have fun too!
Well, if you drop by TREC this 8 to 10 August, you'll be able to jump into a giant ball pit filled with thousands and thousands of balls! We promise you'll surely have a ball of a time here playing and taking countless Insta-worthy photos. There will also be a giant swing there for you to swing around in and forget about all your worries.
What's not to love about this event? You can shop, eat, drink, and jump into a giant ball pit from 4pm 'til midnight, 8-10 August!
The fun doesn't stop there though. In addition to the Boostopia event, Boost will also be having another Online Boost Day this 8 Aug 2019!
Not sure what the Online Boost Day is? Well, you basically get to enjoy these perks when you shop online at Boost's online partners on this one special day:
I. 18X Super Shake Tokens instead of the usual 1 Token for every RM10 spent
ICYMI, Boost's Super Shake contest happens now until 18 August 2019 and Malaysians everywhere can stand to win weekly prizes and cashback as well as a biweekly grand prize consisting of the Proton X70!!! Usually, users are able to earn 1 token with every RM10 spent with Boost. However, on 8 August, every RM10 spent online cumulatively will earn you 18 tokens (this also applies to all purchases made with Boost during the Boostopia event from 8-10 August)! That's 18x more chances to win the Proton X70!
All you have to do is:
Pay with Boost when you shop online or make payments and accumulate tokens (RM10 = 1 token | On 8 August only, every RM10 spent = 18 tokens which will be credited into your account within three working days)
Go to the Super Shake page via the Boost Homepage
Select what you want to win and place the required amount of tokens
The more you bid for an item, the higher your chances of winning! This week, some of the prizes you can bid for include the iPhone XS, Dyson V8 Vacuum, H&M gift card, RM1000 Boost credits, and more!
II. 30% or RM10 cashback at selected online Boost partners when you #PayWithBoost
That's right, you can get a maximum of
RM10 cashback
(with no minimum spend) when you do your online shopping this 8 August at
selected Boost partners 
such as:
Taobao
ZALORA
allyoung
Qoo10
SEAGM
Mr. DIY
Caring
DeliverEat
OffGamers
Presto Mall
These 10 partners will be giving out prizes too! FYI, this promo is limited to the first 8,000 transactions across 10 partners and each user is allowed two transactions. So be sure to wait 'til 8 August before you shop for any necessities, aite!
III. Get plenty of vouchers and Boosted Deals worth as little as RM1 via the app
On this one special day, users can expect tons of discounts, vouchers, free gifts, and crazy Boosted Deals such as:
25% off Zalora (min. spend of RM25)
RM3 off FAVE (min. spend of RM10)
RM10 off on Qoo10 (min. spend of RM30)
1,000 x RM5 Mr. DIY vouchers applicable to all promos and products on their site (no min. spend)
And so much more! Any voucher or deal you get can be used for the following transaction. Woohoo!
IV. Join the Boostopia Shake Challenge and win RM188!
Just as the name suggests, the challenge basically requires you to shake your phone at least 88 times within a span of 31 seconds. If and when you succeed, you'll get an entry to the Boostopia event at TREC via email where you can redeem your prize of up to RM188 in your app. The Boostopia Shake Challenge is already ongoing, so check your Boost app or emails for more info! Get ready to shake crazier than this guy…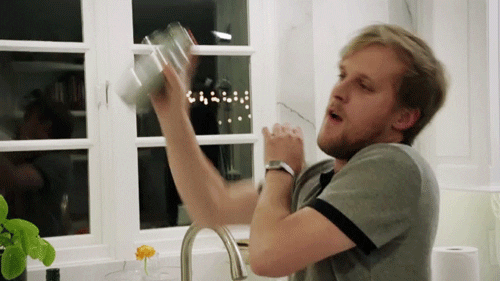 All this happens for a short period of time only, guys! So get those shopping lists ready and prepare to shop and earn as many tokens as possible for the Super Shake contest when you #PayWithBoost! This might also be the last time you get to enjoy Online Boost Day perks seeing as to how the Super Shake contest ends this 18 August. Don't miss out okay!
The Online Boost Day will be happening for one day only this 8 August 2019. Find out more about it here! Additionally, if you're interested to join the Super Shake contest, click here! And while you're at it, don't forget to drop by TREC and take part in the many awesome Boostopia experiences! Don't say we bojio.