Tengku Puteri Jihan Got a Cheeseburger Without The Burger Meat, But Handles It Like a #Queen
Everyone loves a good burger, whether it's Ramly or McDonald's. Each has its own appeal. But, we gotta admit, they do mess up our orders from time to time, and we get pissed when they do. While we common peasants get pissed, how does Malaysian royalty react?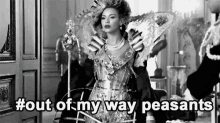 BUT, our princess, Tengku Puteri Jihan, was the picture of grace and humility when this blunder happened to her at McDonald's.
Bila order cheeseburger pastu betul betul dapat cheese and roti je pic.twitter.com/ujJfJgnQSj

— T P J (@jihanabdullah27) October 22, 2019
"When you order cheeseburger but you just get cheese and bread."
Something like this surely must have happened to any one of us at some point, and Tengku Jihan posted it just as a joke. However, her tweet went viral with over 7K retweets on Twitter and even got the attention of McDonald's, who quickly issued an apology – but Tengku Jihan's answer was really chill and was way more polite than so many other keyboard warriors out there.
Some Malaysians, however, decided it was HUGE issue and started bashing McDonalds, but Tengku Jihan swooped in to save the day again.
Everyone please jangan marah @McDMalaysia . It was a harmless mistake. Walaupun dia bagi saya cheese dengan roti je saya habis jugak https://t.co/HzSnQnIdHL

— T P J (@jihanabdullah27) October 22, 2019
"Guys, please don't be mad at McDonald's. It was a harmless mistake. Even though they just gave me cheese and bread, I still finished it."
In honour of this incident, a Twitter user made this hilarious picture of a collaboration between McDonald's and Tengku Jihan.
She also has her own McDonald's now guys…jkjk
Jemput datang pic.twitter.com/cPS3xApOiO

— T P J (@jihanabdullah27) October 25, 2019
We're lucky to have a royal family that's down to earth and humble and able to joke around with the people. We've always got to remember that people in the service industry are trying their best and may slip up here and there, but that shouldn't be a chance for us to be rude to them.
Also read: Our Queen Sings the Favourite Song of Woman with Down Syndrome and Awes the Rakyat