PDRM Urges Witnesses Of Hit-And-Run Accident On Jalan Cheras To Come Forward
PDRM is calling for witnesses to help in the investigation of a hit-and-run accident that took place on 6 February at 8.30pm on Jalan Cheras from the city centre (Taman Segar) to Kajang.
In a video posted on JSPT KL, the footage shows a rather busy three-lane road. About eight seconds into the video, a motorcycle is seen riding on the right lane before a black car tries to squeeze past the motorcycle.
However, in doing so, the car knocks the motorcycle down, pushing the rider to the middle lane where he almost gets run over by another vehicle. Luckily, the vehicle was able to stop in time.
The black car then drives off without stopping after knocking the motorcycle.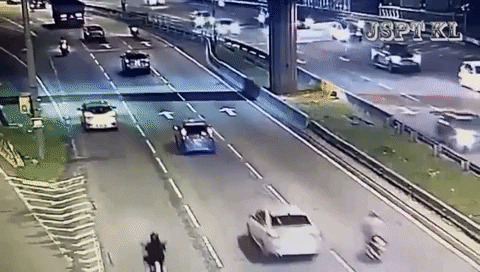 According to the post, no police reports have been made so far. Witnesses of the accident are urged to come forward with further information to assist in the investigation.
Members of the public can contact JSPT KL Investigating Officer, Inspector Vignes at 017 4336110.
Here's the full video:
Share this around and hopefully someone is able to provide the police with sufficient evidence to find the suspect.
Also read: Delivery Rider Dies After Speeding Lorry Crashes Into Him And Four Other Vehicles On LDP