Kelantanese Man Owns a Rare Pair Of Nike 'Moon Shoes' Worth Over RM1.8mil!
A model of vintage 1972 running shoes known as the Nike "Moon Shoe" shattered the record when it was sold for $437,500 at Sotheby's auction house in New York just 3 days ago (24 July).
It was the most amount of money ever paid for a pair of shoes. The previous record went to a couple of signed Converse shoes worn by Michael Jordan in the 1984 Olympic basketball final at $190,373. Most surprisingly, A man from Kelantan owns a pair of Moon Shoes!
The rare shoes, which was designed by Nike co-founder and track coach Bill Bowerman for runners at the 1972 Olympics trials, was only one among the 12 pairs ever created.
Why was the "Moon Shoe" called the "Moon Shoe"? According to Nike, the hand-built shoes leave a distinctive imprint in the dirt, resembling lunar footprints left by astronauts on their historic Apollo missions.
After the massive sale of the shoes in New York, a man in Kelantan became the talk of the town when he was found to own a pair himself!
According to a post by Ide Adol, one of the 12 shoes are now in possession of his friend Hatu Guni, who an avid sneakerhead.
In his status, he writes, "Perghhh RM1.8mil. They thought they had the only one remaining pair of the 12 made. Who would have thought that another collector in Malaysia has a pair."
If you think that it is some sort of rip-off, think again! The shoe has been verified and comes with its original box too!
For sneakerheads out there hoping to catch a glimpse of these coveted kicks, why not make your way to Kelantan to witness this record-breaking shoe?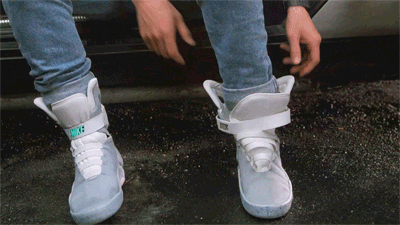 The $437,500″Moon Shoe" sold at Sotheby's was bought by Canadian collector and businessman Miles Nadal, who bought 99 other pairs at the auction, including 2011 and 2016 versions of the Back to the Future Part II limited-edition shoes.
We don't know if Hatu Guni is tempted to sell his shoe to the highest bidder, but if he is, at least he has an idea of the price tag he can put on the world's most expensive shoe.
Also read: Watch: Millennials Going Crazy and Shoving Each Other Trying to Get Limited Edition Yeezy Shoes