Elderly Homeless Man In Penang With Stage 4 Eye Cancer Receives Help Thanks To Netizens
While we marvel at our country's malls and skyscrapers, in its shadows are a community of people we've turned our backs on.
The homeless people living on the streets of Malaysia deserve just as much attention as the infrastructure of our cities, and here's why.
Diana Bastomi took to her Facebook profile to showcase a homeless elderly man who has stage four eye cancer.
She wrote, "This uncle. He said he has stage four eye cancer. Even his speech is unclear. He can barely even walk. He's constantly gripping his head, maybe trying to handle the pain. If anyone can help him, you can find this uncle under Komtar, next to the taxi parking. Very pitiful. There's no one to care for him."
And thankfully, someone did step in.
Penang politician, Teh Lai Heng, shared on his Facebook page that his department has taken the necessary steps to contact the appropriate authorities and give the elderly uncle the care that he needs.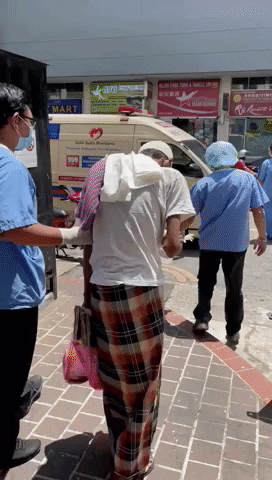 "After receiving information from the public, my department has informed the district office and the Department of Social Welfare Malaysia of this case. The elderly man has been given help immediately. The concern of the people of Penang is greatly appreciated," he said.
We're so happy that this uncle managed to get the help that he needs, but we do have to say that there are still many homeless people out there who are probably in similar conditions as him.
They need help too.
With everyone's cooperation and initiative, many more out there can be brought to the attention of the public, which can lead to medical, housing and meal assistance.
Together, we can save countless lives.
What do you think about this? Let us know in the comment section.
Also read: Elderly M'sian Uncle Lives Among Overgrown Bushes, Sleeps With Caterpillars & Snakes