Chris Hemsworth Speaking Bahasa Will Melt Any Malaysians' Heart!
Aside from being an overall beautiful human being,
…and a great father,

Source: Bored Panda
Chris Hemsworth actually SPEAKS BAHASA INDONESIA! Well, Apa khabar to you too!
In a video that recently resurfaced, it shows Indonesian Youtuber Arief Muhammad and his wife Tiara Pangestika, who were part of the filming for the Thor: Ragnarok film back in 2017. They had the opportunity to interview Chris Hemsworth and director Waititi Taika.
During the interview they found out that Chris was able to speak to them in Bahasa! Understandably, he surprised his Indonesian hosts and left their jaws gaping! How refreshing it is to see a famous celebrity, and one as femes as Chris Hemsworth speaking our beloved language!
Skip ahead to minute 6.42 to catch the segment!
Twitter user UFO royalty (@isleys) who shared a short segment of the interview on their twitter pointed out that Chris Hemsworth proves himself to be more in touch with Asian communities than he is with European ones when he opted to study Bahasa Indonesia in school. (don't worry @isleys, we know you pointed out your spelling error in the thread.)

Source: Twitter
In fact, this wasn't the first time he chose to speak in Bahasa when he addressed his interviewers who spoke the language. In this video taken from 2015 while he was promoting Avengers: Age of Ultron, here he is with Chris Evans speaking with Indonesian host Cinta Kiehl.
Again he speaks to her in Bahasa!
He explains to her how he got to learning the language, and even Chris Evans is caught off guard by how good he is. Granted, it's a few phrases and he has used them before, tapi bahasa dia quite ons la! This guy deserves a lot of respect for using the native tongue and attempting to speak it as well without belitting its users.
Hats off to you Encik! If you didn't already have the love of the Malaysian and Indonesian people, you've certainly earned it now!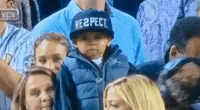 Also Read: Someone Did A Hilarious Twist On Our Favourite Male Actors And It's Fabulous!