Chinese Passenger Threw HOT Water From Cup Noodle at AirAsia Flight Attendant
Tourists from China have one of the worst reputations internationally. It's so bad that almost everyone cringe at the thought of it, and stories of bad encounters with them during travels are bound to be unleashed. Kinda feel bad that the Chinese have been generalized like that.
A Chinese passenger on board an Air Asia flight threw hot water at an attendant, causing a big ruckus. Images shot by other passengers on the plane shocked readers as the flight attendant seem to be covering her face in pain.
The lady was upset because she was notified that her seat was not beside her boyfriend's. After finding out that she couldn't sit beside her lover, the lady threw the cup of noodles and hot water at the attendant. The stewardess covered her face while she screamed in pain. OUCH!
After burning her, the lady still continued to yell at the flight attendant.
Cabin crew quickly stepped in, trying to calm the situation down.
Although this incident happened some time ago, the post resurfaced in Malaysian waters and people are shocked with how terrible the lady was behaving.
The man who believed to be the lady's boyfriend even got in on the argument and threatened to blowup the plane.
The flight that was bound for China u-turned to Bangkok airport where the stewardess quickly obtained medical attention. Authorities were dispatched on board to escort the lady and her partner off the plane. The man still had the audacity to carry the girlfriend like a princess off the plane. The two was forced to take a separate flight home.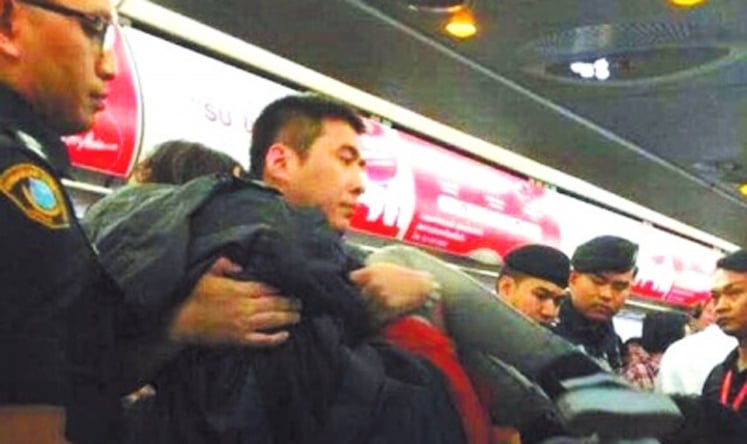 During the investigation of the commotion, the man accused of making the threat later said the attendant was scalded by accident during a tussle over a receipt they had requested for the hot water.
Their actions were so out of hand that China's National Tourism Administration threatened to punish the couple for giving Chinese tourists a bad name.
They said, "the tourists disrupted the flight, hurt other passengers and badly damaged the overall image of the Chinese people. They should receive appropriate action"
No reports were released as of how China has dealt with them. However, the passengers were ordered to pay 50,000 Thai baht (approximately RM5,720) in compensation to the injured flight attendant.