7 Annoying & Very Malaysian Bathroom Habits We're ALL Familiar With
Whether it's a public toilet, or a friend or relative's bathroom, we've all had our fair share of peculiar and annoying toilet users at least once before. Some of these annoying bathroom habits will even make you go…
Read on and see if you've experienced any of them below, or if you're guilty of them yourself!
1. When someone finishes up the toilet paper and doesn't replace it
This should be considered a crime! It's worse especially when you're halfway doing your business, you look over and to your horror, there's no tissue left…
2. The ones who spend forever in the bathroom just using the mirror
Whether it's to fix their hair or put on some make-up, for some odd reason, the bathroom mirror is everyone's favourite type of mirror. Cannot use your bedroom mirror meh?!
3. The ones who don't wash their hands after using the bathroom
*Shudders* Y'all know who you are!!!
If you're guilty of this, shame on you! It's extremely crucial to wash your hands (with soap), after using the toilet regardless whether or not you did your business. The entire bathroom is filled with germs so before leaving, always wash your hands! You can avoid a lot of deadly diseases by this one simple act!
Also, if you wash your hands without soap, then you might as well not wash them. Always. Use. Soap!
4. The ones who have almost nothing in their bathrooms
Hair conditioner also don't have! T_T
Then again, apart from soap and shampoo, do we really need all those other things? Having less items actually help make the bathroom look much more tidy! Honestly, all you really need is a toothbrush, a tube of toothpaste and probably a bottle of LISTERINE Cool Mint on your bathroom shelves. After all, LISTERINE cleans 6X better and kills 99.9% of germs in your mouth that brushing misses to help prevent bad breath, plaque and gum problems! No wonder lah so many people have it!
It also keeps your mouth feeling (and smelling) minty fresh! And that's all that really matters, ammirite?
5. The ones who somehow manage to flood the entire bathroom after a shower
Sometimes, they leave the bathroom looking like WWIII just took place. Everything is everywhere and the floors are all soaked from their bath water. Use the shower curtains lah!
6. The ones who always leave the bathroom smelling like they just used an entire bottle of deodorant/ hairspray/ cologne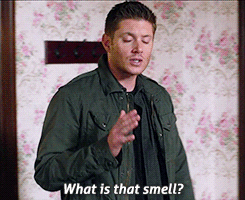 The. Smell. Too. Pungent. Dying. Help.
It's always a nice surprise when the toilet we enter smells good. However, sometimes too much of a good thing can be bad as well. Ease up on those deodorants, friends! You don't need people smelling you from 10KM away!
7. The one who has 2,938,747 different products in the bathroom
Deodorants, hairsprays, pomade, cologne, perfume, toner, moisturiser, body mist, conditioner, you name it, they have it. They can practically open a shop and sell those items!
Like we said earlier, you really don't need that many things in your bathroom! Just the necessities are good enough. Really one!
Anyway, we hope you aren't guilty of too many of the above habits. If you are, you know what to do!