You Can Win FREE Gifts and Drinks Just by Joining This SIMPLE Challenge in Malaysia!
Love a challenge? Who doesn't?!
Win limited prizes and free Connor's
Well, Connor's Challenge truck is travelling nationwide to see if you have what it takes (skill, balance, agility – okay maybe not agility) to pour the perfect pint of Connor's Stout Porter.
And if you manage to find them, you get to win limited edition prizes and even free Connor's to gulp away!
Are you ready to take up the challenge?
Available in KL, Selangor, Ipoh, Penang, and Johor
Connor's will be travelling to various locations across Malaysia including Selangor, Kuala Lumpur, Johor, Ipoh, and Penang so that they can reach out to you while bringing you an immersive and exclusive experience that you won't forget!
But what exactly is the Connor's Challenge, you ask?
We at WORLD OF BUZZ, being kiasu as heck, tried it out of course. And here's how it goes:
1. Interactive brewing process and ingredients journey
Consumers are able to learn the art of brewing Connor's and they'd have the opportunity to see, smell, and touch the quality premium ingredients of what
Connor's are made of:
Roasted Barley
Lager Malt
Brown Malt
Caramel Malt
2. The art of pouring the perfect pint
Everyone gets the opportunity to not only learn how to pour the perfect pint, but also put that knowledge to the test by tapping in their own glass!
Don't worry if you're new to this, Connor's brand ambassadors will be right there to guide you to a perfect pour! It is so simple and quick, you would be indulging yourself with the carefully crafted Connor's stout right then and there. Check out the 'art of pouring' video to get yourself prepared before dropping by to challenge a friend!
After you've poured your perfect pint of stout, you get to sip and enjoy the fruits of your labour! As you can see, we both clearly failed as our stout to foam ratio was terribly imbalanced. 
3. Win cool limited-edition prizes by taking part in the spin & win!
Connor's wants to reward you even further for taking part in this challenge, take part in the spin & win to win some cool limited edition prizes!
From pen drives to stress balls, we were lucky enough to win a complimentary half-pint of Connor's. Its creamy foam was just perfect.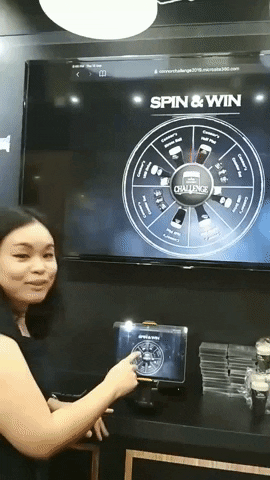 The perfectly balanced stout with just the right bitterness and robustness, creamy head and gentle roasty undertones, it's a stout that's impossible for us to just have one!
Connor's stout is so good, words probably can no longer attest to its taste and texture, you're gonna have to try it for yourself for the experience is well worth it.
Plus, it's super fun! Free prize summo!
So what are you waiting for? Click here to find out where you can take up the Connor's Challenge!