Birthday celebrations may eventually become a tiring event as we get older but it holds a certain significance to children, especially when it comes to blowing out the candles and cutting the cake.
Hence, it's ridiculously disappointing to think that there are families out there who would ruin the occasion for their small children.
Case in point, Cik Anas (@anas_cik) took to his Twitter account to showcase a video taken at a small child's birthday celebration. The boy was just about to cut his cake when his family members proceeded to break and pour eggs all onto the small boy's head.
The kid, drenched in eggs, still reached for the knife to cut his cake but his family decided to then grab handfuls of the cake and slap it all over the boy.
The most stupid parents I ever see.. family paling sia* walau da kne curah dgn telur die still capai pisau tu nk potong kek😭 korang da musnahkan kebahagiaan budak nih babih! pic.twitter.com/WktocEaamm

— Cik Anas 🇵🇸 (@anas_cik) December 23, 2019
Anas wrote, "The most stupid parents I've ever seen. Even after he was drenched in eggs, he still reached for the knife to cut the cake. You guys have completely ruined this child's happiness."
At first, the little boy can be seen smiling at his cake, anticipating cutting it but before he could, he was bombarded, and may I add; quite violently, with eggs from his family members.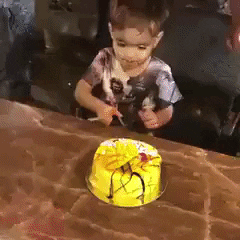 Despite the eggs, he still reached for the knife, determined to cut his cake but his family members had other plans for him. They then grabbed handfuls of the cake and just as violently wiped it all over the boy, causing backlash from netizens for ruining such a joyous event for him.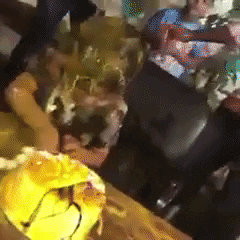 Netizens could barely hold themselves back after watching the incident unfold, taking to the comments section to went out their frustrations.
This comment goes, "Environments like this is where kids grow up to be shy. No self-esteem. He's not an adult to be able to joke around and laugh about things like this. He's a small boy!"
This comment says, "So stupid, that's not how you celebrate with kids. If it were to be your friends, that's a different story."
Some netizens even pinpointed that the boy may be crying as he kept his egg and cake-covered head down.
Also, imagine how the less fortunate who don't get to celebrate birthdays would feel when they see a perfectly edible cake being ruined the way it was.
We genuinely hope his family members re-celebrated his birthday with a proper cake, this time without destroying it for him because the poor boy definitely deserves some cake.
Anas's posting has since garnered over 5,800 retweets.
Somebody get this boy a cake!
Also read: Watch: 9yo Boy Cries Tears Of Joy After Taking Last Dose Of Medicine, Officially Cancer-Free