Myvi Crushed in Horrific Accident With Bus & Lorry, Driver Suspected to Be on the Phone
When you are driving on the road, it is always advisable to keep a safe distance between yourself and the vehicle in front of you. This is so that if anything suddenly happens, you will have ample time to hit the brakes and prevent any collision from happening.
Likewise, if a vehicle is coming too close to you from the back, it would probably be best to move out of the way.
Failing to do any of the above, puts you at risk of getting into accidents which can be fatal, depending on the severity of the collision.
A video posted on Facebook shows a Perodua Myvi sandwiched between a RapidKL bus and a huge lorry. The front of the car is seen almost completely pushed under the back of the lorry, while the back of the car is severely smashed.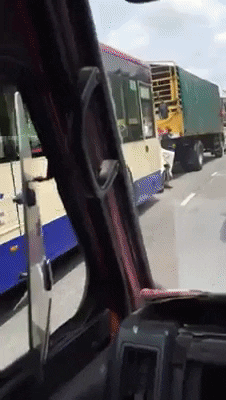 The collision seems to be pretty bad because the Myvi was compressed to almost half its size, with most of the damage done to the back of the car. This indicates that the impact must've come from the RapidKL bus.
According to the caption of the post, the incident happened in Kinrara, Puchong. It said that the bus driver was allegedly speeding upon impact, while some people suspect that the bus driver might have been on his phone when it happened.
It's not known if anyone was hurt in the accident, but we really hope that no one was sitting at the back of the Myvi.
Stay safe on the road, guys!
Also read: Myvi Suddenly Swerves on The LDP, Causing Shocking Accident That Sent 4 Motocyclists Flying