Local Influencer Plays With Cat While Driving, Gets Called Out For Endangering Road Users
While social media and the internet have become a platform for education and advocacy, it's also a place where people knowingly and unknowingly air themselves breaking the law and making irresponsible mistakes.
The Malaysia Animal Association took to their profile to showcase a local influencer playing with his cat while driving. They used the video as an example of a good pet owner who loves their fur baby and called for pet owners to neuter their pets to decrease the stray population.
However, netizens were quick to point out that despite being a loving pet owner, the influencer was endangering himself and others on the road as he was not wearing his seat belt and he rarely had his eyes on the road as he focus was on the cat.
This comment goes, "Others have cats as well, but they play at home. If you hit the bumper of the car in front of you, you'll inconvenience others."
This comment reads, "This is a stupid act. Playing with a cat while driving."
At one point in the video, you can see that the influencer was driving around an apartment or flat compound. This can be ridiculously dangerous as at any moment, a child could run onto the street.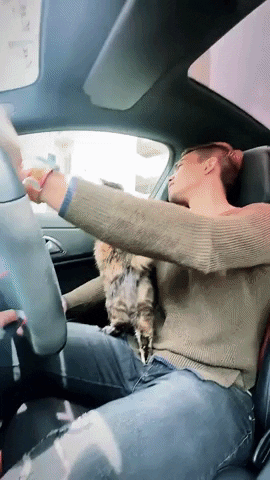 Despite the influencer glancing up to look at the road every few seconds, it only takes a quick moment for a child to run onto the road and for disaster to strike.
WORLD OF BUZZ has since reached out to the influencer for comment but have yet to hear back.
We genuinely hope that the influencer (and everyone else) takes this as a lesson to pay more attention to the road, where attention is due. It's better to be safe than sorry.
What do you think about this? Let us know in the comment section.
Also read: Thai Detective Demoted After Wife Posted Video Of Police Helicopter Joyride On TikTok