Heartbreaking Video Shows Elderly Malaysian Rummaging Through Rubbish To Break Fast
During the Ramadhan season is when most of us truly experience how the less fortunate feel on a daily basis as our Muslim brothers and sisters begin their fasting.
Sadly, the less fortunate are still struggling to find food to break their fasts.
Mizan Dmhba took to his Facebook page to showcase an elderly he stumbled upon. The man was rummaging through garbage and revealed that he was looking for leftover bread to eat for when it is time to break his fast.
Dalam perjalanan dari Pengkalan Chepa nak ke Ketereh kelantan untuk agihan sumbangan,kami terserempak seorang pak cik…

Posted by Mizan Dmhba on Thursday, May 14, 2020
Mizan wrote, "During our journey from Pengkalan Chepa to Ketereh, Kelantan, to distribute our contributions, we stumbled upon this uncle that was rummaging through rubbish.
"I asked to stop the car and approached the uncle. He told me he was collecting leftover bread to be eaten. We gave him a bag of rice and some money for expenditure. There are still many out there that needs our care."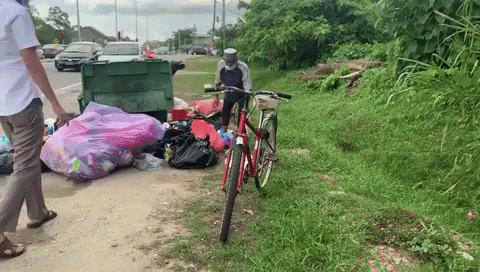 Kudos to Mizan for spotting and helping the elderly man, but we do have to keep in mind what he said, that there are still many out there that needs our help.
Hence, if you spot a person in need, please don't hesitate to help however you can while maintaining social distancing during this Covid-19 Conditional Movement Control Order (CMCO) period.
A little can go a long way. 
Also read: Kind Lady Quickly Gets Out Of Car While Waiting At Traffic Light To Offer Food To Elderly Man