Don't Panic! Police Car Chase In Banting Was Part Of Shoot For Upcoming Tamil Movie
Leave it to Malaysians to not shy away from unusual things we see on the road and add to the speculation that naturally follows.
Many have seen the recent video circulating online, where two police cars can be seen chasing a Perodua Kelisa down the streets of Banting and police officers pulling out a gun on the driver.
Netizens have been wondering what the driver of the Kelisa did to warrant such a reaction from the authorities. Well, wonder no more, for the Royal Malaysia Police (PDRM) took to their Facebook page to explain that it was all just a shoot for an upcoming Indian movie!
They wrote, "The public is asked not to panic over the spread of pictures showing policemen pointing guns at an individual."
The Kuala Langat District Police Chief, Superintendent Azizan Tukiman shared that the incident was related to the shooting of a Tamil movie that was taking place on Jalan Sultan Abdul Samad, heading towards Morib.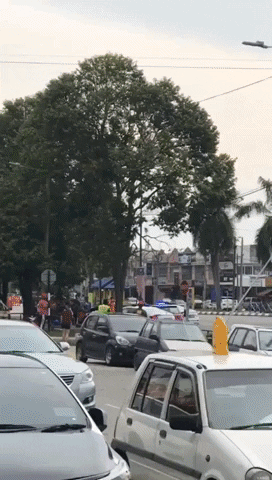 "We have already been informed by Bukit Aman regarding the filming of the movie. The filming only happened for a short period of time and we were informed that there are several other districts also involved in the shooting. However, we have also placed some members to monitor throughout the filming," he said.
Hence, fret not for all is safe and we'll soon have a new movie to watch!
You can check out the exciting clip here:
What do you think this movie could be about? Let us know in the comment section. 
Also read: 19 Vietnamese Fishermen Detained in Kelantan After They Threw Diesel Bombs At Maritime Officers