[Watch] Creepy Peeping Tom Pokes Head into Toilet Cubicle to Stroke Pooping Man's Leg
As if falling victim to the eyes of a peeping Tom isn't bad enough, imagine having them stroke your leg as you do your business! Oh, God… T_T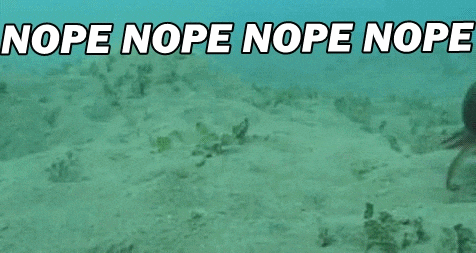 Yeah, as creepy as that sounds, that's actually what happened recently to a poor man, Yong Yutch, while he was happily taking a dump in a bathroom of a mall in Nakhon Sawan Province, Thailand.
According to Coconuts, he took to Facebook to post about the horrifying incident along with the video footage yesterday morning (13 Sept), and while the post has since been taken down, it looks like the clip has already been circulated on the world wide web (where it will remain, forever) as netizens have been sharing it with their friends and followers.
In the disturbing 21-second video, the peeping Tom presumably from another toilet cubicle, can be seen
poking his head into the next bathroom stall where Yong Yutch was doing his numero deux.
And this is why bathroom stalls should be fully covered from ground to ceiling T_T
After doing that several times, his hand casually reaches out to come into contact with Yong Yutch's leg (this time sans the head) as he starts stroking it with great pleasure. Ew, nope nope nope. 
You can watch the video here (be prepared to cringe):
Source: YouTube
If you're also wondering how come Yong Yutch has the balls to record the whole ordeal, apparently, this isn't his first time falling victim to such a case. Kesian! Previously, he claims to have been a victim to another peeping Tom who got away and denied his allegations when he flipped out at the culprit. Hence, this time, he wanted to ensure he had solid evidence. Pictures or it didn't happen, amiright?
Alas, his efforts had gone to waste because just as he exited the cubicle to quickly report the case to security, he saw the peeping Tom running away and failed to catch up due to his short-sightedness.
Aiyo, another one that got away.
When asked to describe the suspect, Yong Yutch said,
"He's probably still studying because he was wearing a university student uniform."
Though the peeping Tom managed to escape, Yong Yutch still informed the mall about the incident, but apparently, he's not the only one who kena. 
"I've already reported it to the mall, who said that this was common here," he added.
Looks like security seriously needs to be tightened at this mall!
What would you have done if you were in this man's shoes? Have you ever fallen victim to a peeping Tom? Tell us in the comments! 
Also read: Netizen Says Don't Blame Officer for Upskirt Video, Blame Victim for Wearing Short Skirt