Shocking Video Shows Man Falling Six Storeys to His Death after Cinema Dispute
A shocking video of a man falling to his death in a mall recently emerged and made its rounds on Facebook with over 560,000 views.
It was reported that the incident was due to an argument with a cinema staff that ended on a heated note after the cinema employee asked a man to "go die".
The incident occurred in Guangzhou, China, after the man allegedly tried to scare cinema staff after they asked him to "go die". However, the man slipped and fell six storeys to his death in Nanhai City Mall.
It's said that the man had asked for a replacement ticket but the staff refused to issue another ticket and a small argument over the movie tickets ensued.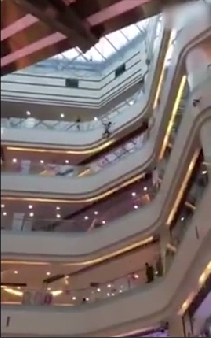 Credit: news.ifeng.com
His botched attempt to scare staff members was filmed to the horrors of onlookers. It shows the man suddenly crossing over the glass barrier, and hangs off the railing with one hand before he seems to loose his grip and fall. Many bystanders were nearby, with many screams clearly audible.
It's been noted that many have mistaken this incident to occur at a popular mall in Petaling Jaya, Malaysia, however netizens have pointed out advertisement banners in Mandarin that say otherwise.
However there are other variations to the story. It was said that the man actually committed suicide after an argument with his girlfriend, not the cinema staff. Apparently, he couldn't secure movie tickets because they were late to the cinema to which the upset girlfriend yelled, "Go die" to him.
Either way, an argument that started from a movie ticket dispute which ended in the death of a man has gotten everyone asking, "Why??"
Reports say that mall staff are currently cooperating with the police investigation. Other than that, no other details have been released or clarified.
Watch the videos below: