"You Have No Morals", Angry Mother Yells After Being Told To Control Her Crying Baby in Flight
Travelling to another location for a vacation is fun but the actual process of getting there can be rather stressful, especially if you're taking a flight. Sometimes, it gets even more stressful once you get on the flight and what sound do you hear?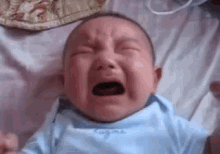 Yes, this!
Ahhh, yes. A crying baby on a flight is something that you wouldn't wish on your worst enemy. But to be honest, you can't really blame both the baby or the parents as the circumstances are out of their control. However, this Mama Bear went wild when a couple in front of her started asking her to do something about baby that had been crying loudly since the plane lights were switched off.
In a video recorded by a passenger, the couple cannot tahan the baby's noise anymore and turns around to say something to the mother. This triggered the mother, who can be seen yelling at the couple and saying that they have no morals and should never have kids.
That's not all, the mother also blasted the couple, saying, "If you think you're so good, don't ever have children for the rest of your life."
Another passenger also told her to control her kid as the baby has been crying since the flight's lights were dimmed. The flight was reportedly headed to Wuhan from Kuala Lumpur which takes approximately five hours.
In a later part of the video, the mother explained herself saying that she was already trying her best to pacify her baby and the couple's comment just made her angrier. Netizens seem to be divided in this incident, with some saying that the mother could've handled the situation better while some mentioned that it's not easy calming a crying kid.
Watch how the whole thing unfurls here:
Source: AsiaOne
Well, it's not easy being a parent for sure but it's definitely high time we become more considerate to everyone!
Also read: M'sian Student Gets Drunk on Flight to US, Fights Attendants & Passengers