Watch: Motorcyclist in KL 'Zig-Zags' Between Traffic, Gets Angry When Car Knocks Him
A motorcyclist that was trying to manoeuvre through slow-moving traffic got angry when a car accidentally nudged him as he was driving in front of the vehicle.
As seen in a video posted on Facebook, the driver, who goes by the name Jaded Mesh, was in the KLCC tunnel on 9 March at about 9am.
As he inched his way through traffic, several motorcycles were riding in a 'zig-zag' motion between the vehicles. One of the motorcyclists drove in front of Jaded and stopped, causing Jaded to knock him.
The motorcyclist got angry and started shouting at Jaded as vehicles on the right lane started moving.
Jaded told WORLD OF BUZZ that he could not hear what the motorcyclist was saying as the cars behind him had started honking.
"It happened when I was looking to my right side mirror to merge to right lane, when suddenly this motor decided to stop in front of my car to move to the left. And he started to shout and give the rude gestures," he said.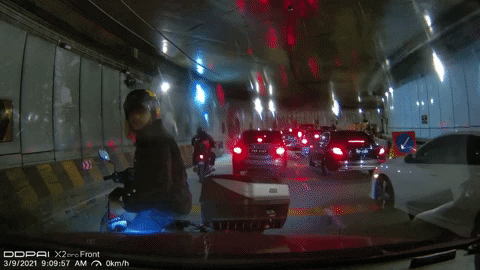 Jaded added that after he pointed that he had a dashcam on his car, the motorcyclist decided to drive off.
He also said that the number plate on his car was damaged and is now missing one number.
"Regardless of who is in the wrong, he doesn't have to stop in the middle of the road with heavy traffic. Think about the traffic chain behind," he said.
Here's the full video:
Also read: "Shame on you!" M'sian Leaves Note On Car That Parked Out Of The Lines In PJ