Watch: Kind Motorcyclist Blocks Heavy Traffic So That Blind Man Can Cross The Road
They say not all heroes wear capes.
Some of them wear motorcycle helmets.
A video has surfaced on the MyWatch (@My_CrimeWatch) where a motorcyclist in Thailand can be seen blocking heavy traffic for a blind man who is trying to cross the road.
Bukan semua hero memakai kostum. #Respect pic.twitter.com/CrsMFUvoV6

— MyWatch (@My_CrimeWatch) October 15, 2019
MyWatch wrote, "Not all heroes wear costumes. #Respect"
The motorist can be seen facing down majorly heavy traffic and blocking it as the blind man crossed the road next to him. Once the motorist made sure the blind man made it safely across, he rode off to continue on with his day.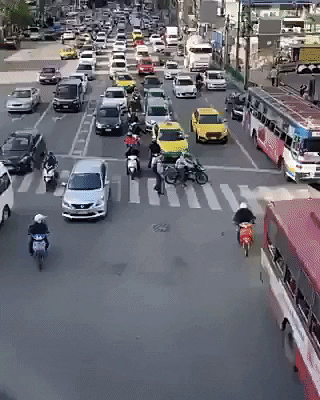 The man's actions should be highly commended as without him, the blind man would have had a lot of difficulties crossing the road with such heavy traffic.
After all, he didn't lose anything by carrying out the random act of kindness.
MyWatch's posting has since garnered over 572 retweets.
We truly need more kind people like this motorist in the world. 
Also read: M'sian Man Abandoned at Hospital With Only RM2 After An Accident, Saved by Kind Mother-Son Duo