Video: Kelisa Goes Against Traffic On LKSA & Crashes Into Myvi After Failing To Pass Through Toll
A 73-year-old man driving a Perodua Kelisa crashed into a Perodua Myvi after driving against traffic on the Kemuning-Shah Alam Highway (LKSA) heading towards Shah Alam City Centre at 5pm yesterday (29 October).
Before crashing into the Myvi, the Kelisa had also caused another car to overturn after it was trying to dodge the Kelisa, reported Harian Metro.
Shah Alam District Police Chief, Assistant Commissioner Baharudin Mat Taib said in a statement,
"A Honda City car driving on the right lane tried to dodge the Perodua Kelisa that was going against traffic and skidded and overturned on the left side of the road at Kilometer 3.1 of the LKSA Highway."
"At the time of the incident, the 33-year-old Honda City driver was on his way back from work in Klang to his home in Kota Kemuning and was taken to the hospital by his friend."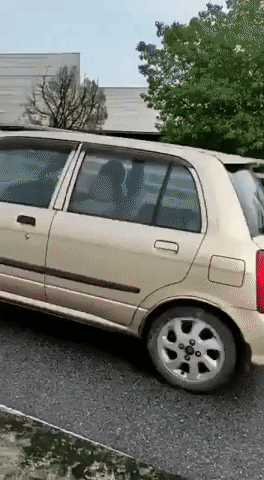 Baharudin said that the incident happened when the Kelisa driver arrived at the Sri Muda Toll Plaza and did not have a Touch 'n Go card. So he turned back against traffic and wanted to return home.
The driver had initially wanted to go from his house in Section 8 to the supermarket in Section 13, but he got lost and accidentally entered LKSA.
As for the Myvi driver, the 25-year-old was on her way from work in Bukit Jelutong to her home in Sri Muda. A video of the accident shows her crashing into the Kelisa after failing to brake in time.
In the comments section of the video, the Myvi driver's sister confirmed the incident and urged the public not to criticise the Kelisa driver as he is an old man and had just undergone an operation. She added that her family had already forgiven the man.
In his statement, Baharudin said, "The driver of the Perodua Kelisa and Perodua Myvi was not injured."
"All three parties have lodged a report at the Shah Alam District Police Headquarters (IPD)."
"The Perodua Kelisa driver was detained for further action and the case is being investigated under Section 42 (1) APJ 1987 for reckless driving."
The Kelisa driver was taken home by members of the public after which his son took him to the Shah Alam IPD to lodge a police report.
The son said that the man had been unwell and was also taken to Shah Alam Hospital for further examination.
Here's the full video:
Also read: Watch: Car Pays For Toll On West Coast Highway But Gets Stuck After Motorcyclist Exits Lane