SG Woman Without Mask At Wet Market Ignores & Films Police Officers Who Approached Her
What is up with people and not taking a deadly disease seriously?
The instructions given by medical professionals all over the world in order to curb the spread of the Covid-19 virus is simple enough. Practice social distancing, stay at home, only one person from a family is allowed to go out and wear a mask!
One woman in Singapore not only didn't wear a mask when she went grocery shopping at a wet market, but she also decided to get cocky with the police officers who approached her about it by completely disregarding them while filming them on her phone, as showcased in a YouTube video by News Videos.
Watch here:
They wrote, "It is an offence to go to the wet market without a mask on."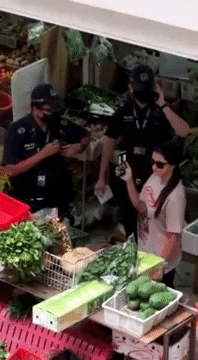 Honestly, if she were to have just admitted her mistake, apologised to the officers and promised to get a mask or explain that she couldn't get her hands on a mask, things might have gone a completely different way.
Instead, she now faces backlash from the public who believe her actions were completely unwarranted.
As according to the Mothership, Singaporean National Development Minister Lawrence Wong, who is also the co-chair of their multi-ministry taskforce, had announced in a press conference that it is compulsory for all Singaporeans to wear masks if they need to leave their houses from the 14th of April onwards.
Hence, it's only fair for everyone to work together, follow the instructions given by the authorities, respect those who are trying to enforce these regulations as at the end of the day, it is all for the sake of our own safety and the well being of those around us.
The video cuts off as the woman tries to leave the market with her groceries and the police officers following her out. We genuinely hope that they took action against the woman, especially as a lesson for all others who believe they are above the law.
What do you think about this? Let us know in the comment section. 
Also read: Grab Driver Reveals That Roads Are Filled With Cars And Ignorant People Despite MCO Extension