M'sian Grateful for Honest Couple Who Returned His Lost IC, Passport & RM2,000 in China
Everybody loves going on holidays. However, the bliss and excitement of a trip can be easily ruined by several factors like losing our valuable belongings. Unfortunately, that was the case for this Malaysian.
The individual told WORLD OF BUZZ that he was with his family in China for a holiday last December in 2018. They were staying at the Xiaoqiao Bieyuan Inn, Lijiang, China and had made plans to go to the Jade Dragon Snow Mountain that day. Unfortunately, as he was rushing out of his hotel, he unconsciously dropped his bag, which contained his passport, IC, driving license and money worth more than RM2,000. Neither him nor his family noticed the bag being left behind.
His family was making their way to the snow mountain at this point. However, as they were approaching their destination, he tried to find his bag as he needed to show his passport for verification. He thoroughly searched for his bag but sadly, he could not recall where he left it. He then decided to continue to the snow mountain which, fortunately, allowed him to enter without his passport.
They finished the snow mountain's tour after five hours and immediately rushed back to the hotel. Upon checking the hotel's surveillance footage, he mentioned,
"We saw the CCTV in the hotel and nothing much can be found."
It was then when they decided to report the case to the authorities. When the police arrived, they went to check the CCTV footage that surrounded the hotel. After thorough scanning, they finally saw his bag being picked up by a middle-aged couple.
"To be honest, I didn't have much hope that it could be returned at that moment since it had quite an amount of money in it," he admitted.
The police informed him that they will be monitoring the CCTV footage to investigate the couple's whereabouts. With all of the suspense and stress surrounding the room, the officer strangely returned just after 10 minutes with a rather suspicious smile on his face. The officer led him to a small building in a different area which was built to assist people in need. When they reached the building, he noticed a bag and immediately recognised it as the one he had dropped. Luckily, the bag still contained all of his documents and all of the money was left untouched too. He said,
"We were grateful to the police for helping us find our lost stuff. We are also very grateful to the couple who picked it up and decided to let the authorities handle it."
Faith in humanity, restored!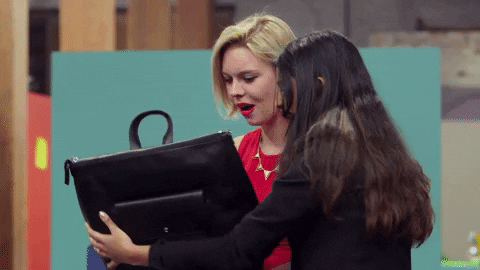 Source: Giphy
We're glad that this fellow Malaysian managed to retrieve his bag back and we commend the couple's integrity. We hope you always stay attentive when carrying your bags especially if they contain important documents or money.
Also read: M'sian Couple Loses RM100,000 After Robbers Broke into Their Home & Stole Biscuit Tin