Man Wants to Sue Wife & Get Annulment After She Shamed Him for Having Micropenis
Around a week ago, a post on Reddit went viral after a newly wedded wife revealed that her husband did not tell her about his micropenis. The redditor by the username throwaway_peen34 said that she always thought that he was just saving himself for marriage and was "old fashioned like that" whenever they were getting it on. However, after they got married, she was shocked when she found out that her husband only had a 3cm penis.
As if thing's couldn't get worse, she also revealed that her husband now wants to leave her and sue her for publicly sharing his secret online.
I guess he's really upset that his little secret is out!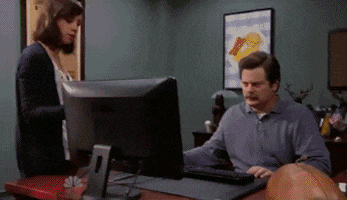 Source: Giphy
In a follow up post, she shared that her husband wants to get an annulment and is going to sue her for defamation of character. She also revealed that ever since the post went viral, some of his friends were starting to deduce who the story was referring to. She wrote,
"He says it's only a matter of time before someone leaks his name. He saw the post through an old friend of his who knew he had a micropenis and saw on his FB that he had just gotten married. He doesn't know who else the guy has told to link him to it."
"He is crushed that I posted about him."
She also shared how she confronted her husband on why he kept his secret from her.
"He said he was sure I would leave him if I knew about the size prior to the wedding."
"He wanted to have a talk before the wedding but feared it being called off because of his micropenis and said if both families found out/gossiped about it, he would be crushed," she added.
Source: Giphy
Redditors were not hesitant to share how outraged they were about the current situation. The comments section was flooded with people sharing about how absurd it was to bring it to court, especially after her husband kept the secret for a whole year.
However, some redditors have also pointed out that she shouldn't be sharing his secret online. Many said that she is only making things worse by publicizing his insecurities, while others criticised how terrible the public is at handling this news.
The original poster also just revealed that her husband would be willing to compromise if he gets to undergo a penis enlargement surgery. However, she is reluctant to allow him to do so as the whole procedure will cost a huge amount of money. She wrote,
"He says it's my fault and that my posts drove him to it."
"I've told him I don't need a $50k penis, and we can manage to keep things spicy but this stubborn man is bound and determined."
You can read the full post here.
What do you guys think about the development of this story? What do you think is the most effective way for the couple to handle this issue? Let us know in the comments section below!
Also read: Woman Saves Sex for Marriage, Finds Out Husband Has 3cm Micropenis on Wedding Night