Man Uses Lamborghini Exhaust To Barbecue Skewered Meat, Incurs RM323,000 In Repair Costs
A Lamborghini owner in China recently got his five minutes of online fame after trying to barbecue some skewered meat with the car's fiery exhaust and incurring about 500,000 Yuan (approx. RM323,000) in repair costs, according to a report by Luxurylaunches
A group of supercar owners gathered in an underground garage in Changsha, Hunan Province, to witness the 'cookout' of what many have called the world's most expensive skewered meat. Apparently, the luxury car owner decided that it would be fun to use the Lamborghini's super hot exhaust to barbecue a piece of meat skewered on a stick, wrote Luxurylaunches.
As it turns out, Lamborghinis' extreme power makes them prone to overheating, at least if you keep accelerating while it's parked. Chinese portal Sohu.com reported that since the engine could not cool down, the water tank exploded and the expensive sports car was enveloped in white steam. As seen in the video, the coolant began leaking from under the vehicle, causing both the men and the crowd to withdraw until the steam was gone.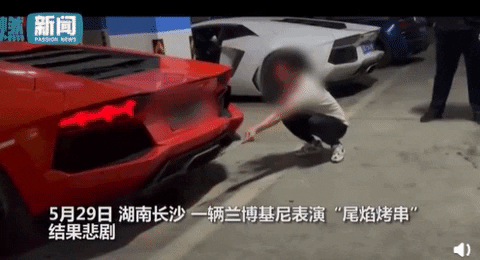 Still, those in attendance didn't seem all that upset, as they can be seen smiling and laughing as they struggle to push the car onto a tow truck. With that, it's pretty obvious how many second-generation youths born into wealth display a lack of healthy principles. One can only dream of owning a Lamborghini.
What did you think of this story? Let us know in the comments!
Also Read: M'sian Girl With Cancer Taken To Grandparent's House By Helicopter To Fulfill Her Dying Wish