It's safe to say that it's the official beginning of the school holidays and Malaysian students have officially gotten into the holiday mood.
But how exactly do you celebrate 1 and a half months of freedom?
A group of students from a religious school in Kelantan decided to show their holiday spirit by breaking a considerable amount of the school's plastic chairs by violently throwing them against the floor and walls, as showcased by the We are Malaysians Facebook page.
Semalam khamis adalah hari terakhir sekolah tahun 2019 utk sekolah yang bercuti hari Jumaat… Bersemangat pelajar salah sebuah sekolah agama di Kelantan membuat kerja musnah harta benda kelas…Nak kata salah siapa.. Ibu bapa atau guru yang mengajar mereka…#PDRM

Posted by 我们是马来西亚人 We are Malaysians on Thursday, November 21, 2019
We are Malaysians wrote, "Thursday yesterday was the last day of school for schools that have Friday off. Students of a religious school in Kelantan showed their excitement by destroying school property. Who is to blame, the parents or the teachers that educate them?"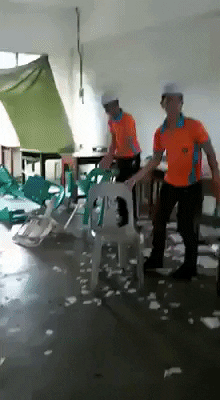 What's very disappointing is the fact that the person behind the camera was encouraging the students to break the chairs. He could be heard saying, "Yes, good, keep breaking them!"
But what's EVEN MORE disappointing is that all that broken plastic chairs will eventually end up contributing to the already insane amounts of plastic waste in Malaysia when they're thrown out.
We genuinely hope that the school authorities properly punish the students for such unacceptable behaviour.
We are Malaysians' posting has since garnered over 479 shares.
What do you think should be these kids' punishment? Let us know in the comments section.
Also read: Starting 2020, All Restaurants & Mamaks in Kelantan Have to Close by 12am to Reduce Misconduct