Bouncers in Zouk Club 'Stole' Amputee's Crutches, Resulted Him in Tears
Motivational speaker, Josh Sundquist dropped by in Malaysia to speak in Reach Out Malaysia about how having only one leg impacted his life but didn't get him down.
The man who lost his left leg from cancer at the age of 9 spread absolute positivity to everyone in the hall.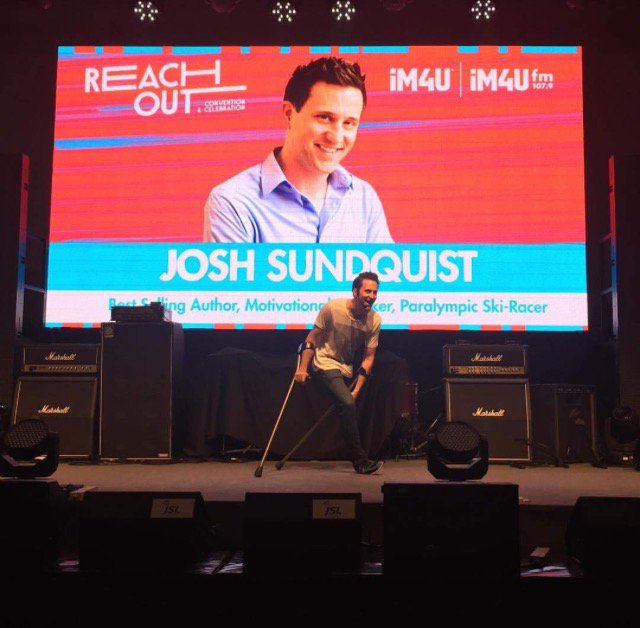 In a video he released yesterday, he spoke about enjoying a night out with his friends at the club we all know too well. The one and only Zouk Club KL.
However, a turn of events have left the day bitter sweet as he had his crutches snatched away by the security crew or bouncers.
Josh who hit the club with his friends and some other speakers from the event was having fun partying in Zouk.
When he decided to jump up and dance on the podium.. well, we all know what happens when a guy gets up on the podium..
Josh was not ushered down from the dance podium but rudely grabbed by one security guard while another pulled away his crutches as he tells in his video.
Recalling the experience has left him in tears and he only had one leg so having the crutches taken away from him left him immobile.
The teary-eyed Josh confessed that even though he's a motivational speaker who tries his best to inspire people and spread positivity, these kind of experiences still gets him down no matter how tough he tries to be.
Although, we hope Josh understand that the bouncers didn't let him on the podium because he was a male, not because he was an amputee.
Watch the video he posted below:
https://www.youtube.com/watch?v=MqGUXvsMuiI
Viewers understood how deep the cut was for him and offer their sympathies for the incident.
Malaysians agreed that the security is always rude to party goers and many have personally witnessed the guards aggressively yanking males who were on the podium to get down the stage. However, doing so to an amputee with crutches was way out of line.
Malaysians and international viewers who watched his video demands an apology from Zouk or at least hope Zouk would improve their customer service and treatment.
Zouk Club KL is ranked top 38th club in the world and Josh hopes that Zouk will at least offer an explanation on the ordeal.
Update: Zouk has released their official statement on the incident. Read below for their side of the story.